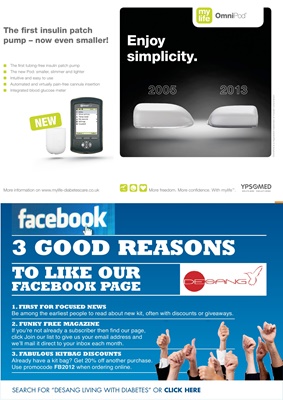 The first insulin patch
pump – now even smaller! Enjoy
NEWS
The first tubing-free insulin patch pump
simplicity.
The new Pod: smaller, slimmer and lighter
Intuitive and easy to use
Automated and virtually pain-free cannula insertion
Integrated blood glucose meter
OmniPod is a registered trademark of Insulet Corporation.
More information on www.mylife-diabetescare.co.uk More freedom. More confidence. With mylife™.
3 gooD reasons
to Like our
facebook Page
1. first for focuseD news
Be among the earliest people to read about new kit, often with discounts or giveaways.
2. funky free magaZine
If you're not already a subscriber then find our page,
click Join our list to give us your email address and
we'll mail it direct to your inbox each month.
3. fabuLous kitbag Discounts
Already have a kit bag? Get 20% off another purchase.
Use promocode FB2012 when ordering online.
SEARCH foR "dESANG LIVING WITH dIABETES" oR CLICK HERE