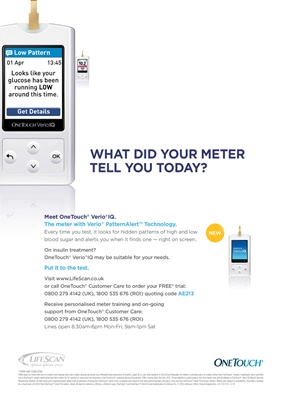 WHAT DID YOUR METER
TELL YOU TODAY?
Meet OneTouch® Verio®IQ.
The meter with Verio® PatternAlert™ Technology.
Every time you test, it looks for hidden patterns of high and low NEW
blood sugar and alerts you when it finds one — right on screen.
On insulin treatment?
OneTouch® Verio®IQ may be suitable for your needs.
Put it to the test.
Visit www.LifeScan.co.uk
or call OneTouch® Customer Care to order your FREE* trial:
0800 279 4142 (UK), 1800 535 676 (ROI) quoting code AE213
Receive personalised meter training and on-going
support from OneTouch® Customer Care:
0800 279 4142 (UK), 1800 535 676 (ROI)
Lines open 8.30am-6pm Mon-Fri, 9am-1pm Sat
*TERMS AND CONDITIONS
Offer open to those who are on insulin and making their own insulin dosing decisions (e.g. Multiple Daily Injections of insulin), aged 16 or over and resident in the UK and Republic of Ireland, including users of meters other than OneTouch® meters. Applicants who currently
use a OneTouch® meter must have had their meter for 12 months or more and not received a free OneTouch® upgrade during this period. Offer closing date 31st Dec 2012. Those eligible to participate in the free meter trial will be offered a OneTouch® Verio®IQ Blood Glucose
Monitoring System, 25 test strips and a questionnaire about their experience of using the OneTouch® Verio®IQ to complete and return in the reply paid envelope provided. Only one free OneTouch® Verio®IQ trial per person. Meters are subject to availability. This offer is limited
to a maximum of 4,000 free OneTouch® Verio®IQ meters. Allow 28 days for delivery. LifeScan, LifeScan Logo, OneTouch® and OneTouch® Verio®IQ are trademarks of LifeScan Inc. © 2012 LifeScan, Ortho-Clinical Diagnostics. AW 099-110A. 12-141