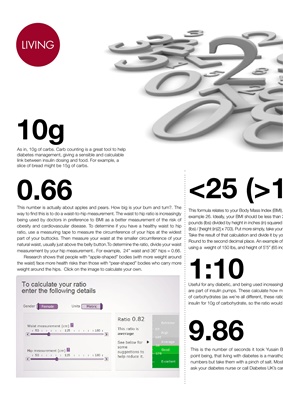 LIVING
10g
as in, 10g of carbs. Carb counting is a great tool to help
diabetes management, giving a sensible and calculable
link between insulin dosing and food. for example, a
slice of bread might be 15g of carbs.
0.66
this number is actually about apples and pears. How big is your bum and tum?. the
1
this formula relates to your body Mass index (bMi).
way to find this is to do a waist-to-hip measurement. The waist to hip ratio is increasingly
example 26. ideally, your bMi should be less than 2
being used by doctors in preference to bMi as a better measurement of the risk of
pounds (lbs) divided by height in inches (in) squared
obesity and cardiovascular disease. to determine if you have a healthy waist to hip
(lbs) / [height (in)2] x 703). Put more simply, take your
ratio, use a measuring tape to measure the circumference of your hips at the widest
take the result of that calculation and divide it by yo
part of your buttocks. then measure your waist at the smaller circumference of your
round to the second decimal place. an example of
natural waist, usually just above the belly button.to determine the ratio, divide your waist
using a weight of 150 lbs, and height of 5'5" (65 inc
measurement by your hip measurement.. for example, 24" waist and 36" hips = 0.66.
1:10
research shows that people with "apple-shaped" bodies (with more weight around
the waist) face more health risks than those with "pear-shaped" bodies who carry more
weight around the hips. Click on the image to calculate your own.
useful for any diabetic, and being used increasingl
are part of insulin pumps. these calculate how mu
of carbohydrates (as we're all different, these ratio
insulin for 10g of carbohydrate, so the ratio would
9.86
this is the number of seconds it took Yusain b
point being, that living with diabetes is a maratho
numbers but take them with a pinch of salt. Most
ask your diabetes nurse or call Diabetes uk's car