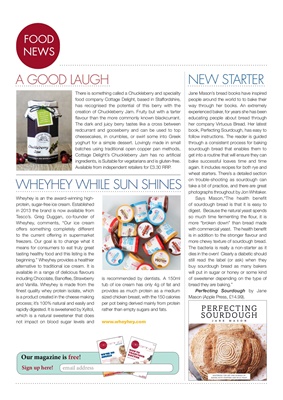 LIVINGLIVING
FOOD
NEWS
A GOOD LAUGH
WHEYHEY WHILE SUN SHINES
Wheyhey is an the award-winning highprotein,
sugar-free ice cream. Established
in 2013 the brand is now available from
Tesco's. Greg Duggan, co-founder of
Wheyhey, comments, "Our ice cream
offers something completely different
to the current offering in supermarket
freezers. Our goal is to change what it
means for consumers to eat truly great
tasting healthy food and this listing is the
beginning." Wheyhey provides a healthier
alternative to traditional ice cream. It is
available in a range of delicious flavours
including Chocolate, Banoffee, Strawberry
and Vanilla. Wheyhey is made from the
finest quality whey protein isolate, which
is a product created in the cheese making
process; it's 100% natural and easily and
rapidly digested. It is sweetened by Xylitol,
which is a natural sweetener that does
not impact on blood sugar levels and
NEW STARTER
Jane Mason's bread books have inspired
people around the world to to bake their
way through her books. An extremely
experienced baker, for years she has been
educating people about bread through
her company Virtuous Bread. Her latest
book, Perfecting Sourdough, has easy to
follow instructions. The reader is guided
through a consistent process for baking
sourdough bread that enables them to
get into a routine that will ensure they can
bake successful loaves time and time
again. It includes recipes for both rye and
wheat starters. There's a detailed section
on trouble-shooting as sourdough can
take a bit of practice, and there are great
photographs throughout by Jon Whitaker.
Says Mason,"The health benefit
of sourdough bread is that it is easy to
digest. Because the natural yeast spends
so much time fermenting the flour, it is
more "broken down" than bread made
with commercial yeast. The health benefit
is in addition to the stronger flavour and
more chewy texture of sourdough bread.
The bacteria is really a non-starter as it
dies in the oven! Clearly a diabetic should
still read the label (or ask) when they
buy sourdough bread as many bakers
will put in sugar or honey or some kind
of sweetener depending on the type of
bread they are baking."
Perfecting Sourdough by Jane
Mason (Apple Press, £14.99).
ISSUE 30
MAGAZINE
DESANG
PLUS • New Products • Groovy giveaways • News (for T1 and T2)
WE'RE NO
ANGELS
But business as usual is best for
diabetics at Christmas
MAKING
CARBS COUNT:
CHESTNUTS ROASTING
ON OPEN FIRES
Our magazine is free!
Sign up here! email address
There is something called a Chuckleberry and speciality
food company Cottage Delight, based in Staffordshire,
has recognised the potential of this berry with the
creation of Chuckleberry Jam. Fruity but with a tarter
flavour than the more commonly known blackcurrant.
The dark and juicy berry tastes like a cross between
redcurrant and gooseberry and can be used to top
cheesecakes, in crumbles, or swirl some into Greek
yoghurt for a simple dessert. Lovingly made in small
batches using traditional open copper pan methods,
Cottage Delight's Chuckleberry Jam has no artificial
ingredients, is Suitable for vegetarians and is gluten-free.
Available from independent retailers for £3.30 RRP.
is recommended by dentists. A 150ml
tub of ice cream has only 4g of fat and
provides as much protein as a medium
sized chicken breast, with the 150 calories
per pot being derived mainly from protein
rather than empty sugars and fats.