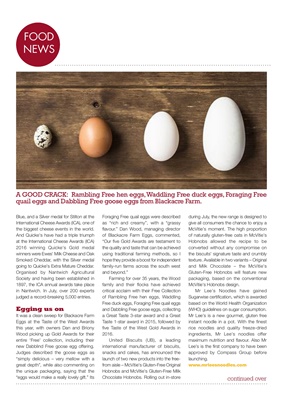 KIT
FOOD
NEWS
Blue, and a Silver medal for Stilton at the
International Cheese Awards (ICA), one of
the biggest cheese events in the world.
And Quicke's have had a triple triumph
at the International Cheese Awards (ICA)
2016 winning Quicke's Gold medal
winners were Ewes' Milk Cheese and Oak
Smoked Cheddar, with the Silver medal
going to Quicke's Extra Mature Cheddar.
Organised by Nantwich Agricultural
Society and having been established in
1897, the ICA annual awards take place
in Nantwich. In July, over 200 experts
judged a record-breaking 5,000 entries.
Egging us on
It was a clean sweep for Blackacre Farm
Eggs at the Taste of the West Awards
this year, with owners Dan and Briony
Wood picking up Gold Awards for their
entire 'Free' collection, including their
new Dabblind Free goose egg offering.
Judges described the goose eggs as
"simply delicious - very mellow with a
great depth", while also commenting on
the unique packaging, saying that the
"eggs would make a really lovely gift." Its
Foraging Free quail eggs were described
as "rich and creamy", with a "grassy
flavour." Dan Wood, managing director
of Blackacre Farm Eggs, commented,
"Our five Gold Awards are testament to
the quality and taste that can be achieved
using traditional farming methods, so I
hope they provide a boost for independent
family-run farms across the south west
and beyond."
Farming for over 35 years, the Wood
family and their flocks have achieved
critical acclaim with their Free Collection
of Rambling Free hen eggs, Waddling
Free duck eggs, Foraging Free quail eggs
and Dabbling Free goose eggs, collecting
a Great Taste 3-star award and a Great
Taste 1-star award in 2015, followed by
five Taste of the West Gold Awards in
2016.
United Biscuits (UB), a leading
international manufacturer of biscuits,
snacks and cakes, has announced the
launch of two new products into the freefrom
aisle - McVitie's Gluten-Free Original
Hobnobs and McVitie's Gluten-Free Milk
Chocolate Hobnobs. Rolling out in-store
during July, the new range is designed to
give all consumers the chance to enjoy a
McVitie's moment. The high proportion
of naturally gluten-free oats in McVitie's
Hobnobs allowed the recipe to be
converted without any compromise on
the biscuits' signature taste and crumbly
texture. Available in two variants - Original
and Milk Chocolate - the McVitie's
Gluten-Free Hobnobs will feature new
packaging, based on the conventional
McVitie's Hobnobs design.
Mr Lee's Noodles have gained
Sugarwise certification, which is awarded
based on the World Health Organization
(WHO) guidelines on sugar consumption.
Mr Lee's is a new gourmet, gluten free
instant noodle in a pot. With the finest
rice noodles and quality freeze-dried
ingredients, Mr Lee's noodles offer
maximum nutrition and flavour. Also Mr
Lee's is the first company to have been
approved by Compass Group before
launching.
FOOD
NEWS
continued over
A GOOD CRACK: Rambling Free hen eggs, Waddling Free duck eggs, Foraging Free
quail eggs and Dabbling Free goose eggs from Blackacre Farm.