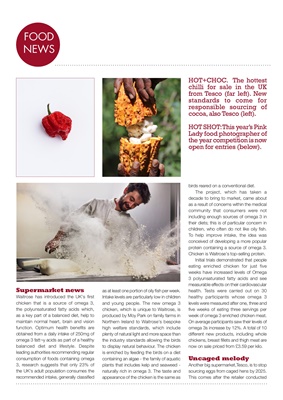 KIT
FOOD
NEWS
Supermarket news
Waitrose has introduced the UK's first
chicken that is a source of omega 3,
the polyunsaturated fatty acids which,
as a key part of a balanced diet, help to
maintain normal heart, brain and vision
function. Optimum health benefits are
obtained from a daily intake of 250mg of
omega 3 fatt¬y acids as part of a healthy
balanced diet and lifestyle. Despite
leading authorities recommending regular
consumption of foods containing omega
3, research suggests that only 23% of
the UK's adult population consumes the
recommended intake, generally classified
as at least one portion of oily fish per week.
Intake levels are particularly low in children
and young people. The new omega 3
chicken, which is unique to Waitrose, is
produced by Moy Park on family farms in
Northern Ireland to Waitrose's bespoke
high welfare standards, which include
plenty of natural light and more space than
the industry standards allowing the birds
to display natural behaviour. The chicken
is enriched by feeding the birds on a diet
containing an algae - the family of aquatic
plants that includes kelp and seaweed -
naturally rich in omega 3. The taste and
appearance of the chicken is the same as
birds reared on a conventional diet.
The project, which has taken a
decade to bring to market, came about
as a result of concerns within the medical
community that consumers were not
including enough sources of omega 3 in
their diets; this is of particular concern in
children, who often do not like oily fish.
To help improve intake, the idea was
conceived of developing a more popular
protein containing a source of omega 3.
Chicken is Waitrose's top-selling protein.
Initial trials demonstrated that people
eating enriched chicken for just five
weeks have increased levels of Omega
3 polyunsaturated fatty acids and see
measurable effects on their cardiovascular
health. Tests were carried out on 30
healthy participants whose omega 3
levels were measured after one, three and
five weeks of eating three servings per
week of omega 3 enriched chicken meat.
On average participants saw their levels of
omega 3s increase by 12%. A total of 10
different new products, including whole
chickens, breast fillets and thigh meat are
now on sale priced from £3.59 per kilo.
Uncaged melody
Another big supermarket,Tesco, is to stop
sourcing eggs from caged hens by 2025.
This comes after the retailer conducted
HOT+CHOC. The hottest
chilli for sale in the UK
from Tesco (far left). New
standards to come for
responsible sourcing of
cocoa, also Tesco (left).
HOT SHOT: This year's Pink
Lady food photographer of
the year competition is now
open for entries (below).