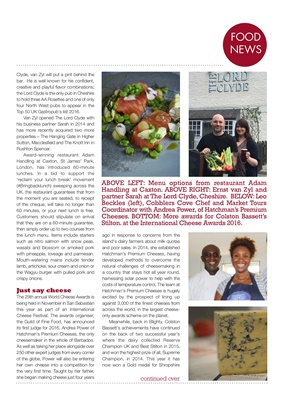 KIT
FOOD
NEWS
Clyde, van Zyl will put a pint behind the
bar. He is well known for his confident,
creative and playful flavor combinations;
the Lord Clyde is the only pub in Cheshire
to hold three AA Rosettes and one of only
four North West pubs to appear in the
Top 50 UK Gastropub's list 2016.
Van Zyl opened The Lord Clyde with
his business partner Sarah in 2014 and
has more recently acquired two more
properties - The Hanging Gate in Higher
Sutton, Macclesfield and The Knott Inn in
Rushton Spencer.
Award-winning restaurant Adam
Handling at Caxton, St James' Park,
London, has introduced 60-minute
lunches. In a bid to support the
'reclaim your lunch break' movement
(#Bringbacklunch) sweeping across the
UK, the restaurant guarantees that from
the moment you are seated, to receipt
of the cheque, will take no longer than
60 minutes, or your next lunch is free.
Customers should stipulate on arrival
that they are on a 60-minute guarantee,
then simply order up to two courses from
the lunch menu. Items include starters
such as nitro salmon with snow peas,
wasabi and blossom or smoked pork
with pineapple, loveage and parmesan.
Mouth-watering mains include tender
lamb, artichoke, sour cream and onion or
the Wagyu burger with pulled pork and
crispy onions.
Just say cheese
The 29th annual World Cheese Awards is
being held in November in San Sebastián
this year as part of an International
Cheese Festival. The awards organiser,
the Guild of Fine Food, has announced
its first judge for 2016, Andrea Power of
Hatchman's Premium Cheeses, the only
cheesemaker in the whole of Barbados.
As well as taking her place alongside over
250 other expert judges from every corner
of the globe, Power will also be entering
her own cheese into a competition for
the very first time. Taught by her father,
she began making cheese just four years
ago in response to concerns from the
island's dairy farmers about milk quotas
and poor sales. In 2014, she established
Hatchman's Premium Cheeses, having
developed methods to overcome the
natural challenges of cheesemaking in
a country that stays hot all year round,
harnessing solar power to help with the
costs of temperature control. The team at
Hatchman's Premium Cheeses is hugely
excited by the prospect of lining up
against 3,000 of the finest cheeses from
across the world, in the largest cheeseonly awards
scheme on the planet.
Meanwhile, back in Blighty, Colston
Bassett's achievements have continued
on the back of two successful year's
where the dairy collected Reserve
Champion UK and Best Stilton in 2015,
and won the highest prize of all, Supreme
Champion, in 2014. This year it has
now won a Gold medal for Shropshire
ABOVE LEFT: Menu options from restaurant Adam
Handling at Caxton. ABOVE RIGHT: Ernst van Zyl and
partner Sarah at The Lord Clyde, Cheshire. BELOW: Leo
Beckles (left), Cobblers Cove Chef and Market Tours
Coordinator with Andrea Power, of Hatchman's Premium
Cheeses. BOTTOM: More awards for Colston Bassett's
Stilton. at the International Cheese Awards 2016.
continued over