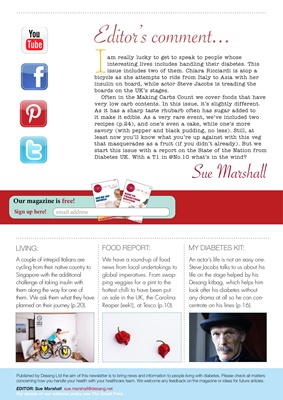 Published by Desang Ltd the aim of this newsletter is to bring news and information to people living with diabetes. Please check all matters
concerning how you handle your health with your healthcare team. We welcome any feedback on the magazine or ideas for future articles.
EDITOR: Sue Marshall sue.marshall@desang.netshall" target="_blank" title="Visit sue.marshall">sue.marshall@desang.net
For details of our editorial policy see The Small Print.
We have a round-up of food
news from local undertakings to
global imperatives. From swapping veggies for a pint to the
hottest chilli to have been put on
sale in the UK (p.10).
Sue Marshall
A couple of intrepid Italians are
cycling from their native country to
Singapore with the additional
challenge of taking insulin with
them along the way. We ask them
what they have planned (p.20). O
nce in a while I get to speak to some really
interesting people part of whose life includes
handling their diabetes. This issue includes a two of
them; Chiara Ricciardi atop a bicycle as she attempts to ride
from Italy to Asia with her insulin on board, and actor Steve
Jacobs. Often we cover foods that have very low carb counts
and in this issue, it's rhubarb. However, as it has a sharp
taste it often has sugar added to make it edible. As a very
rare event, we've included two recipes in the Making Carbs
Count section (p.24) and one's even a cake (a rarity in these
pages). Still, at least now you'll know what you're up against
with it (if you didn't already).
Editor's comment...
ISSUE 30
MAGAZINE
DESANG
PLUS • New Products • Groovy giveaways • News (for T1 and T2)
WE'RE NO
ANGELS
But business as usual is best for
diabetics at Christmas
MAKING
CARBS COUNT:
CHESTNUTS ROASTING
ON OPEN FIRES
Our magazine is free!
Sign up here! email address
An actor's life is not an easy one.
Steve Jacobs talks to us about his
life on the stage,helped by his
Desang kitbag which helps him
look after his diabetes without
any drama at all (p.16).
MY DIABETES KIT:
LIVING: FOOD REPORT: