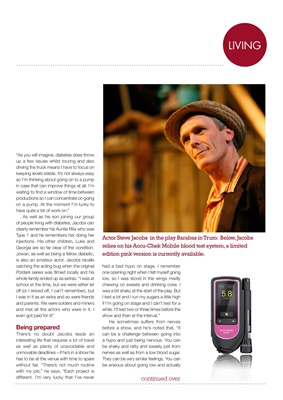 KITLIVING
continued over
"As you will imagine, diabetes does throw
up a few issues whilst touring and also
driving the truck means I have to focus on
keeping levels stable. It's not always easy
so I'm thinking about going on to a pump
in case that can improve things at all. I'm
waiting to find a window of time between
productions so I can concentrate on going
on a pump. At the moment I'm lucky to
have quite a bit of work on."
As well as his son joining our group
of people living with diabetes, Jacobs can
clearly remember his Auntie Rita who was
Type 1 and he remembers her doing her
injections. His other children, Luke and
Georgia are so far clear of the condition.
Jowan, as well as being a fellow diabetic,
is also an amateur actor. Jacobs recalls
catching the acting bug when the original
Poldark series was filmed locally and his
whole family ended up as extras. "I was at
school at the time, but we were either let
off (or I skived off, I can't remember), but
I was in it as an extra and so were friends
and parents. We were solders and miners
and met all the actors who were in it. I
even got paid for it!"
Being prepared
There's no doubt Jacobs leads an
interesting life that requires a lot of travel
as well as plenty of unavoidable and
unmovable deadlines - if he's in a show he
has to be at the venue with time to spare
without fail. "There's not much routine
with my job," he says, "Each project is
different. I'm very lucky that I've never
had a bad hypo on stage. I remember
one opening night when I felt myself going
low, so I was stood in the wings madly
chewing on sweets and drinking coke. I
was a bit shaky at the start of the play. But
I test a lot and I run my sugars a little high
if I'm going on stage and I can't test for a
while. I'll test two or three times before the
show and then at the interval."
He sometimes suffers from nerves
before a show, and he's noted that, "It
can be a challenge between going into
a hypo and just being nervous. You can
be shaky and ratty and sweaty just from
nerves as well as from a low blood sugar.
They can be very similar feelings. You can
be anxious about going low and actually
Actor Steve Jacobs in the play Barabas in Truro. Below, Jacobs
relies on his Accu-Chek Mobile blood test system, a limited
edition pink version is currently available.