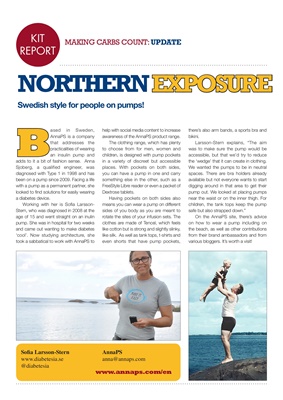 LIVINGLIVING
KIT
REPORT
RANGE OF CHOICE
Swedish style for people on pumps!
B
ased in Sweden,
AnnaPS is a company
that addresses the
practicalities of wearing
an insulin pump and
adds to it a bit of fashion sense. Anna
Sjoberg, a qualified engineer, was
diagnosed with Type 1 in 1998 and has
been on a pump since 2009. Facing a life
with a pump as a permanent partner, she
looked to find solutions for easily wearing
a diabetes device.
Working with her is Sofia LarssonStern,
who was diagnosed in 2008 at the
age of 15 and went straight on an inulin
pump. She was in hospital for two weeks
and came out wanting to make diabetes
'cool'. Now studying architecture, she
took a sabbatical to work with AnnaPS to
MAKING CARBS COUNT: UPDATE
help with social media content to increase
awareness of the AnnaPS product range.
The clothing range, which has plenty
to choose from for men, women and
children, is designed with pump pockets
in a variety of discreet but accessible
places. With pockets on both sides,
you can have a pump in one and carry
something else in the other, such as a
FreeStyle Libre reader or even a packet of
Dextrose tablets.
Having pockets on both sides also
means you can wear a pump on different
sides of you body as you are meant to
rotate the sites of your infusion sets. The
clothes are made of Tencel, which feels
like cotton but is strong and slightly slinky,
like silk. As well as tank tops, t-shirts and
even shorts that have pump pockets,
www.annaps.com/en<anna@annaps.comsson-Stern
@diabetesia
AnnaPS
anna@annaps.com
there's also arm bands, a sports bra and
bikini.
Larsson-Stern explains, "The aim
was to make sure the pump would be
accessible, but that we'd try to reduce
the 'wedge' that it can create in clothing.
We wanted the pumps to be in neutral
spaces. There are bra holders already
available but not everyone wants to start
digging around in that area to get their
pump out. We looked at placing pumps
near the waist or on the inner thigh. For
children, the tank tops keep the pump
safe but also strapped down."
On the AnnaPS site, there's advice
on how to wear a pump including on
the beach, as well as other contributions
from their brand ambassadors and from
various bloggers. It's worth a visit!