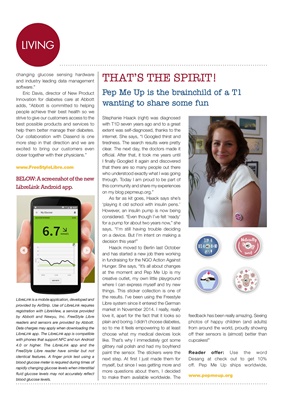 LIVINGLIVING
Stephanie Haack (right) was diagnosed
with T1D seven years ago and to a great
extent was self-diagnosed, thanks to the
internet. She says, "I Googled thirst and
tiredness. The search results were pretty
clear. The next day, the doctors made it
official. After that, it took me years until
I finally Googled it again and discovered
that there are so many people out there
who understood exactly what I was going
through. Today I am proud to be part of
this community and share my experiences
on my blog pepmeup.org."
As far as kit goes, Haack says she's
'playing it old school with insulin pens.'
However, an insulin pump is now being
considered. "Even though I've felt 'ready'
for a pump for about two years now," she
says, "I'm still having trouble deciding
on a device. But I'm intent on making a
decision this year!"
Haack moved to Berlin last October
and has started a new job there working
in fundraising for the NGO Action Against
Hunger. She says, "It's all about changes
at the moment and Pep Me Up is my
creative outlet, my own little playground
where I can express myself and try new
things. This sticker collection is one of
the results. I've been using the Freestyle
Libre system since it entered the German
market in November 2014. I really, really
love it, apart for the fact that it looks so
plain and boring. I didn't choose diabetes,
so to me it feels empowering to at least
choose what my medical devices look
like. That's why I immediately got some
glittery nail polish and had my boyfriend
paint the sensor. The stickers were the
next step. At first I just made them for
myself, but since I was getting more and
more questions about them, I decided
to make them available worldwide. The
Pep Me Up is the brainchild of a T1
wanting to share some fun
feedback has been really amazing. Seeing
photos of happy children (and adults)
from around the world, proudly showing
off their sensors is (almost) better than
cupcakes!"
Reader offer: Use the code 'desang' at
check out to get 10% off. Pep Me Up
ships worldwide, so postage to the UK is
no problem, costing euros 2,95€ but with
the code FREESHIPPING all orders above
€10 are shipped for free.
THAT'S THE SPIRIT!