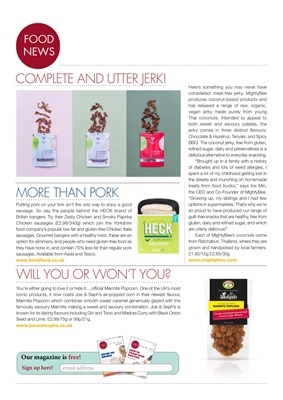 LIVINGLIVING
FOOD
NEWS
COMPLETE AND UTTER JERK!
MORE THAN PORK
WILL YOU OR WON'T YOU?
You're either going to love it or hate it… official Marmite Popcorn. One of the UK's most
iconic products, it now coats Joe & Seph's air-popped corn in their newest flavour,
Marmite Popcorn which combines smooth sweet caramel generously glazed with the
famously savoury Marmite making a sweet and savoury combination. Joe & Seph's is
known for its daring flavours including Gin and Tonic and Madras Curry with Black Onion
Seed and Lime. £2.99/75g or 99p/21g.
Putting pork on your fork isn't the only way to enjoy a good
sausage. So say the people behind the HECK brand of
British bangers. Try their Zesty Chicken and Smoky Paprika
Chicken sausages (£2.98/340g) which join the Yorkshire
food company's popular low fat and gluten-free Chicken Italia
sausages. Gourmet bangers with a healthy twist, these are an
option for slimmers, and free-from eaters as they are glutenfree
and contain 70% less fat than regular pork sausages.
Available from Asda and Tesco. www.heckfood.co.uk
Here's something you may never have
considered: meat-free jerky. MightyBee
produces coconut-based products and
has released a range of raw, organic,
vegan jerky made purely from young
Thai coconuts. Intended to appeal to
both sweet and savoury palates, the
jerky comes in three distinct flavours:
Chocolate & Hazelnut, Teriyaki, and Spicy
BBQ. The coconut jerky, free from gluten,
refined sugar, dairy and preservatives is a
delicious alternative to everyday snacking.
"Brought up in a family with a history
of diabetes and lots of weird allergies, I
spent a lot of my childhood getting lost in
the streets and munching on homemade
treats from food trucks," says Ice Min,
the CEO and Co-Founder of MightyBee.
"Growing up, my siblings and I had few
options in supermarkets. That's why we're
so proud to have produced our range of
guilt-free snacks that are healthy, free from
gluten, dairy and refined sugar, and which
are utterly delicious!"
Each of MightyBee's coconuts come
from Ratchaburi, Thailand, where they are
grown and handpicked by local farmers.
£1.80/15g £2.85/30g
ISSUE 30
MAGAZINE
DESANG
PLUS • New Products • Groovy giveaways • News (for T1 and T2)
WE'RE NO
ANGELS
But business as usual is best for
diabetics at Christmas
MAKING
CARBS COUNT:
CHESTNUTS ROASTING
ON OPEN FIRES
Our magazine is free!
Sign up here! email address