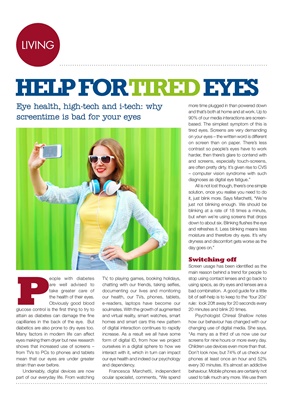 LIVINGLIVING
homes and smart cars this new pattern
of digital interaction continues to rapidly
increase. As a result we all have some
form of digital ID, from how we project
ourselves in a digital sphere to how we
interact with it, which in turn can impact
our eye health and indeed our psychology
and dependency.
Take a BETH
Francesca Marchetti, independent ocular
specialist, comments, "We spend more
time plugged in than powered down and
that's both at home and at work. Up to
90% of our media interactions are screenbased. The simplest symptom of this is
tired eyes. Screens are very demanding
on your eyes - the written word is different
on screen than on paper. There's less
contrast so people's eyes have to work
harder, then there's glare to contend with
and screens, especially touch-screens,
are often pretty dirty. It's given rise to CVS
- computer vision syndrome with such
diagnoses as digital eye fatigue."
All is not lost though, there's one simple
solution, once you realise you need to do it,
just blink more. Says Marchetti, "We're just
not blinking enough. We should be blinking
at a rate of 18 times a minute, but when
we're using screens that rate drops down
to about six times. Blinking flushes the eye
and refreshes it. Less blinking means less
moisture and therefore dry eyes. It's why
dryness and discomfort gets worse as the
day goes on."
Switching off
Screen usage has been identified as the
main reason behind a trend for people to
stop using contact lenses and go back to
using specs, as dry eyes and lenses are a
bad combination. A good guide for a little
Eye health, high-tech and i-tech
CLEAR EYE ID
P
eople with diabetes
are well advised to
take greater care of
the health of their eyes.
Obviously good blood
glucose control is the first thing to try to
attain as diabetes can damage the fine
capilliaries in the back of the eye. But
diabetics are also prone to dry eyes too.
Many factors in modern life can affect
eyes making them dryer but new research
shows that increased use of screens -
from TVs to PCs to phones and tablets
mean that our eyes are under greater
strain than ever before.
Undeniably, digital devices are now
part of our everyday life. From watching
TV, to playing games, booking holidays,
chatting with our friends, taking selfies,
documenting our lives and monitoring
our health, our TVs, phones, tablets,
e-readers, laptops have become our
soulmates. With the growth of augmented
and virtual reality, smart watches, smart
Depending on how often you do this,
the information can become almost
continuous."
CGM is an increasingly interesting
area in diabetes care, though it is
considered costly. A 'third way' (not
finger-stick blood testing and not CGM)
is appearing. Leading the field at the
moment is Abbott's FreeStyle Libre. Says
Timol, "We are entering the market at a
much more affordable price than CGM.
The actual costings are not final yet. Users
will be likely to buy packs of patches at
a time, with each patch lasting 24 hours.
SugarBEAT is easy to wear, flexible and
needle-free, which is a plus-point against
invasive needle like sensors which have
to be inserted into the skin for weeks
at a time. SugarBEAT requires an initial
calibration and 'warms up' in only 30
minutes then it's good to go. If a patch
should fail, or somehow come off, you're
only paying for one daily use patch. With
other CGMs or flash glucose monitoring
you're out of pocket for something that
was due to be used 7 or 14 days. By
being daily disposable the skin irritation
caused by having a sensor stuck to your
skin for weeks at a time is also avoided. "
What's exciting about SugarBEAT,
beyond its non-invasive natures, is the
potentially affordable entry level and the
flexibility of how the sensor is worn as
well as the fact that it's UK made, it will
launch in the UK and is directed initially at
the diabetes market. We'll keep our eyes
on this one.
SugarBEAT continued