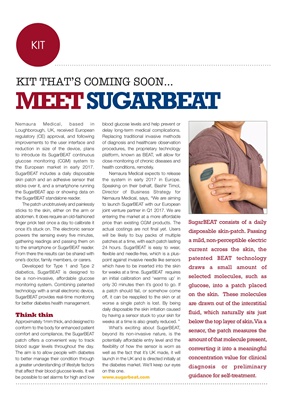 KIT
KIT THAT'S COMING SOON...
MEET SUGARBEAT
SugarBEAT consists of a daily
disposable skin-patch. Passing
a mild, non-perceptible electric
current across the skin, the
patented technology draws
a small amount of selected
molecules, such as glucose,
out of the interstitial fluid. Via a
sensor, the patch measures the
amount of that molecule present,
converting it into a meaningful
concentration value for clinical
diagnosis or preliminary
guidance for self-treatment.
Nemaura Medical, based in
Loughborough, UK, now has European
regulatory (CE) approval to introduce
its SugarBEAT continuous glucose
monitoring system by the end of 2016.
The package includes a daily disposable
skin patch and an adhesive sensor that
sticks over it, and a smartphone running
the SugarBEAT app or a smartwatch, or
on the SugarBEAT standalone reader.
The patch sticks painlessly to the skin,
whether to the arm, leg, or abdomen. It
does require an old-fashioned finger prick
test to calibrate it once it's stuck on. The
electronic sensor powers the sensing
every five minutes, gathering readings and
passing them on to the smartphone or
SugarBEAT reader. From there the results
can be shared with one's doctor, family
members, or carers. Suitable for Type
1 and Type 2 diabetics, SugarBEAT is
designed to be a non-invasive, affordable
glucose monitoring system. Combining
patented technology with a small
electronic device, SugarBEAT provides
real-time monitoring for better diabetes
health management.
Approximately 1mm thick, and
designed to conform to the body
for enhanced patient comfort and
compliance, the SugarBEAT patch offers a
convenient way to track blood sugar levels
throughout the day. Connected to a small
electronic sensor, the SugarBEAT patch
can take a sensor measurement every
five minutes from the body's interstitial
fluid, drawn from the skin. This clinical
relevant data can be securely transmitted
via Bluetooth to quickly display real-time
glucose readings on your smartwatch or
smartphone via the SugarBEAT App. The
aim is to allow people with diabetes to
better manage their condition through a
greater understanding of lifestyle factors
that affect their blood glucose levels. It will
be possible to set alarms for high and low
blood glucose levels and help prevent or
delay long-term medical complications.
Replacing traditional invasive methods
of diagnosis and healthcare observation
procedures, the proprietary technology
platform, known as BEAT, will allow for
close monitoring of chronic diseases and
health conditions, remotely.
Coming how soon?
Nemaura Medical expects to release
the system in early 2017 in Europe.
Speaking on their behalf, Bashir Timol,
Director of Business Strategy for
Nemaura Medical, says, "we are aiming
to be taking orders in Q1 2017. We've
done all the necessary clinical testing and
have already responded to feedback.
The imagery shows that there's not only
a watch, but that users can choose to
see the date on their smartphones if they
prefer. It's helped that regulators have
now accepted smartphones as data
receivers not just dedicated readers. It's
an improved version that's coming to
market."
To be clear, is SugarBEAT CGM?
Timol clarifies, "SugarBEAT comprises
a patch connected to a miniaturised
sensor, Bluetooth and a battery all
within the casing of the patch. The
exact classification will be decided by
the regulators. Whilst SugarBEAT takes
a reading every 5 minutes, you access
the app in order to see the readings.
continued over