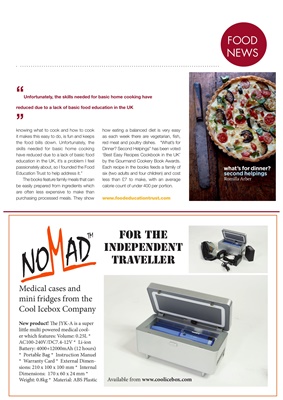 FOOD
NEWS
" Unfortunately, the skills needed for basic home cooking have
reduced due to a lack of basic food education in the UK
"
knowing what to cook and how to cook how eating a balanced diet is very easy
it makes this easy to do, is fun and keeps as each week there are vegetarian, fish,
the food bills down. Unfortunately, the red meat and poultry dishes. "What's for
skills needed for basic home cooking Dinner? Second Helpings" has been voted
have reduced due to a lack of basic food 'Best Easy Recipes Cookbook in the UK'
education in the UK, it's a problem I feel by the Gourmand Cookery Book Awards.
passionately about, so I founded the Food Each recipe in the books feeds a family of
Education Trust to help address it." six (two adults and four children) and cost
The books feature family meals that can less than £7 to make, with an average
be easily prepared from ingredients which calorie count of under 400 per portion.
are often less expensive to make than
purchasing processed meals. They show www.foodeducationtrust.com
For the
independent
traveller
Medical cases and
mini fridges from the
Cool Icebox Company
New product! The JYK-A is a super
little multi powered medical cool-
er which features: Volume: 0.25L *
AC100-240V/DC7.4-12V * Li-ion
Battery: 4000+12000mAh (12 hours)
* Portable Bag * Instruction Manuel
* Warranty Card * External Dimen-
sions: 210 x 100 x 100 mm * Internal
Dimensions: 170 x 60 x 24 mm *
Weight: 0.8kg * Material: ABS Plastic Available from www.coolicebox.com