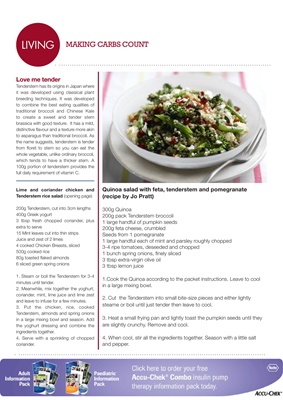 LIVING MAKING CARBS COUNT
Love me tender
Tenderstem has its origins in Japan where
it was developed using classical plant
breeding techniques. It was developed
to combine the best eating qualities of
traditional broccoli and Chinese Kale
to create a sweet and tender stem
brassica with good texture. It has a mild,
distinctive flavour and a texture more akin
to asparagus than traditional broccoli. As
the name suggests, tenderstem is tender
from floret to stem so you can eat the
whole vegetable, unlike ordinary broccoli,
which tends to have a thicker stem. A
100g portion of tenderstem provides the
full daily requirement of vitamin C.
Lime and coriander chicken and Quinoa salad with feta, tenderstem and pomegranate
Tenderstem rice salad (opening page) (recipe by Jo Pratt)
200g Tenderstem, cut into 3cm lengths 300g Quinoa
400g Greek yogurt 200g pack Tenderstem broccoli
3 tbsp fresh chopped coriander, plus 1 large handful of pumpkin seeds
extra to serve 200g feta cheese, crumbled
15 Mint leaves cut into thin strips Seeds from 1 pomegranate
Juice and zest of 2 limes 1 large handful each of mint and parsley roughly chopped
4 cooked Chicken Breasts, sliced 3-4 ripe tomatoes, deseeded and chopped
500g cooked rice 1 bunch spring onions, finely sliced
80g toasted flaked almonds 3 tbsp extra-virgin olive oil
6 sliced green spring onions 3 tbsp lemon juice
1. Steam or boil the Tenderstem for 3-4
1.Cook the Quinoa according to the packet instructions. Leave to cool
minutes until tender.
in a large mixing bowl.
2. Meanwhile, mix together the yoghurt,
coriander, mint, lime juice and lime zest
2. Cut the Tenderstem into small bite-size pieces and either lightly
and leave to infuse for a few minutes.
3. Put the chicken, rice, cooked steame or boil until just tender then leave to cool.
Tenderstem, almonds and spring onions
in a large mixing bowl and season. Add 3. Heat a small frying pan and lightly toast the pumpkin seeds until they
the yoghurt dressing and combine the are slightly crunchy. Remove and cool.
ingredients together.
4. Serve with a sprinkling of chopped 4. When cool, stir all the ingredients together. Season with a little salt
coriander. and pepper.