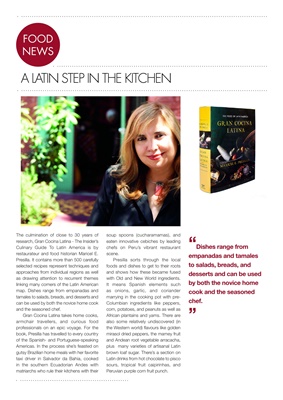 FOOD
LIVING
NEWS
A LATIN STEP IN THE KITCHEN
The culmination of close to 30 years of soup spoons (cucharamamas), and
research, Gran Cocina Latina - The Insider's
Culinary Guide To Latin America is by
restaurateur and food historian Maricel E.
eaten innovative cebiches by leading
chefs on Peru's vibrant restaurant
scene.
" Dishes range from
empanadas and tamales
Presilla. It contains more than 500 carefully Presilla sorts through the local
selected recipes represent techniques and foods and dishes to get to their roots to salads, breads, and
approaches from individual regions as well and shows how these became fused
desserts and can be used
as drawing attention to recurrent themes with Old and New World ingredients.
linking many corners of the Latin American It means Spanish elements such by both the novice home
map. Dishes range from empanadas and as onions, garlic, and coriander cook and the seasoned
tamales to salads, breads, and desserts and marrying in the cooking pot with pre-
can be used by both the novice home cook Columbian ingredients like peppers, chef.
"
and the seasoned chef. corn, potatoes, and peanuts as well as
Gran Cocina Latina takes home cooks, African plantains and yams. There are
armchair travellers, and curious food also some relatively undiscovered (in
professionals on an epic voyage. For the the Western world) flavours like golden
book, Presilla has travelled to every country mirasol dried peppers, the mamey fruit
of the Spanish- and Portuguese-speaking and Andean root vegetable arracacha,
Americas. In the process she's feasted on plus many varieties of artisanal Latin
gutsy Brazilian home meals with her favorite brown loaf sugar. There's a section on
taxi driver in Salvador da Bahia, cooked Latin drinks from hot chocolate to pisco
in the southern Ecuadorian Andes with sours, tropical fruit caipirinhas, and
matriarchs who rule their kitchens with their Peruvian purple corn fruit punch.