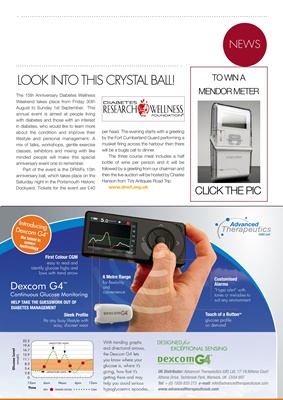 NEWS
LOOK INTO THIS CRYSTAL BALL! TO WIN A
The 15th Anniversary Diabetes Wellness
MENDOR METER
Weekend (and Crystal Ball) takes place
from Friday 30th August to Sunday 1st
September. This annual event is aimed
at people living with diabetes and those
with an interest in diabetes, who would Tickets for the event are £40 per head. The
like to learn more about the condition evening starts with a greeting by the Fort
and improve their lifestyle and personal Cumberland Guard performing a musket
management. A mix of talks, workshops, firing across the harbour then there will be a
gentle exercise classes, exhibitors and bugle call to dinner.
mixing with like minded people will make The three course meal includes a half
this special anniversary event one to bottle of wine per person and it will be
remember. followed by a greeting from our chairman and
This is the JDRFs 15th anniversary then the live auction will be hosted by Charles
ball, which takes place at Boathouse No. Hanson from TVs Antiques Road Trip.
7 in the Portsmouth Historic Dockyard. www.drwf.org.uk
CLICK THE PIC