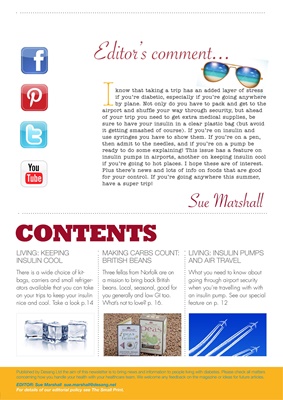 Editor's comment...
I know that taking a trip has an added layer of stress
if you're diabetic, especially if you're going anywhere
by plane. Not only do you have to pack and get to
the airport and shuffle your way through security, but
ahead of your trip you need to get extra medical supplies,
be sure to have your insulin in a clear plastic bag (but
avoid them smashing of course). If you're on insulin and
use syringes you have to show them. If you're on a pen,
then admit to the needles, and if you're on a pump be
ready to do some explaining! This issue has a feature on
insulin pumps in airports, another on keeping insulin cool
if you're going to hot places, plus news and lots of info
on foods that are good for your control. If you're going
anywhere this summer, have a super trip!
Sue Marshall
CONTENTS
LIVING: KEEPING MAKING CARBS COUNT: LIVING: INSULIN PUMPS
INSULIN COOL BRITISH BEANS AND AIR TRAVEL
There is a wide choice of kit- Bean genies. Three fellas from .... What you need to know about
bags, carriers and small refriger- are on a mission to bring back going through airport security
ators available that you can take British beans. Local, seasonal, when you're travelling with with
on your trips to keep your insulin good for you generally and low an insulin pump. See our special
nice and cool. Take a look p.14 GI too. What's not to love? p. 16. feature on p. 12
Published by Desang Ltd the aim of this newsletter is to bring news and information to people living with diabetes. Please check all matters
concerning how you handle your health with your healthcare team. We welcome any feedback on the magazine or ideas for future articles.
EDITOR: Sue Marshall sue.marshall@desang.net
For details of our editorial policy see The Small Print.
13NC