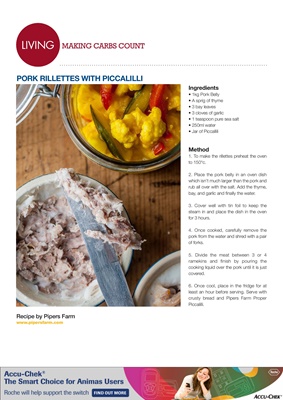 LIVINGLIVING
PORK RILLETTES WITH PICCALILLI
Ingredients
• 1kg Pork Belly
• A sprig of thyme
• 3 bay leaves
• 3 cloves of garlic
• 1 teaspoon pure sea salt
• 250ml water
• Jar of Piccallili
Method
1. To make the rillettes preheat the oven
to 150°c.
2. Place the pork belly in an oven dish
which isn't much larger than the pork and
rub all over with the salt. Add the thyme,
bay, and garlic and finally the water.
3. Cover well with tin foil to keep the
steam in and place the dish in the oven
for 3 hours.
4. Once cooked, carefully remove the
pork from the water and shred with a pair
of forks.
5. Divide the meat between 3 or 4
ramekins and finish by pouring the
cooking liquid over the pork until it is just
covered.
6. Once cool, place in the fridge for at
least an hour before serving. Serve with
crusty bread and Pipers Farm Proper
Piccalilli.
MAKING CARBS COUNT
Recipe by Pipers Farm