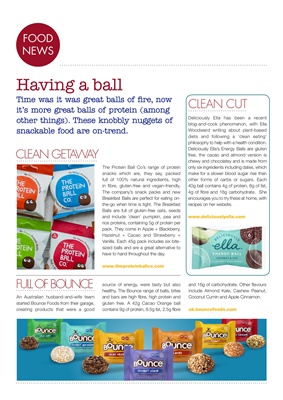 LIVINGLIVING
FOOD
NEWS
Time was it was great balls of fire, now
it's more great balls of protein (among
other things). These knobbly nuggets of
snackable food are on-trend.
Having a ball
CLEAN GETAWAY The Protein Ball Co's range of protein
snacks which are, they say, packed
full of 100% natural ingredients, high
in fibre, gluten-free and vegan-friendly,
The company's snack packs and new
Breakfast Balls are perfect for eating onthe-go when
time is tight. The Breakfast
Balls are full of gluten-free oats, seeds
and include 'clean' pumpkin, pea and
rice proteins, containing 5g of protein per
pack. They come in Apple + Blackberry,
Hazelnut + Cacao and Strawberry +
Vanilla. Each 45g pack includes six bitesized
balls and are a great alternative to
have to hand throughout the day.
FULL OF BOUNCE
An Australian husband-and-wife team
started Bounce Foods from their garage,
creating products that were a good
source of energy, were tasty but also
healthy. The Bounce range of balls, bites
and bars are high fibre, high protein and
gluten free. A 42g Cacao Orange ball
contains 9g of protein, 8.5g fat, 2.5g fibre
and 16g of carbohydrate. Other flavours
include Almond Kale, Cashew Peanut,
Coconut Cumin and Apple Cinnamon.
uk.bouncefoods.com
CLEAN CUT
Deliciously Ella has been a recent
blog-and-cook phenomenon, with Ella
Woodward writing about plant-based
diets and following a 'clean eating'
philosophy to help with a health condition.
Deliciously Ella's Energy Balls are gluten
free, the cacao and almond version is
chewy and chocolatey and is made from
only six ingredients including dates, which
make for a slower blood sugar rise than
other forms of carbs or sugars. Each
40g ball contains 4g of protein, 8g of fat,
4g of fibre and 18g carbohydrate. She
encourages you to try these at home,
with recipes on her website.