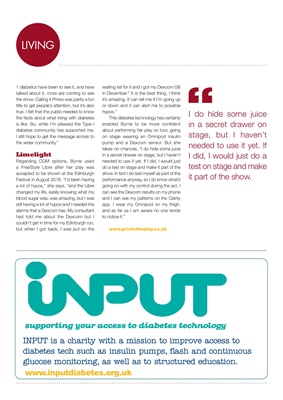 LIVINGLIVING
INPUT is a charity with a mission to improve access to
diabetes tech such as insulin pumps, flash and continuous
glucose monitoring, as well as to structured education.
1 diabetics have been to see it, and have
talked about it, more are coming to see
the show. Calling it Pricks was partly a fun
title to get people's attention, but it's also
true. I felt that the public needed to know
the facts about what living with diabetes
is like. So, while I'm pleased the Type I
diabetes community has supported me,
I still hope to get the message across to
the wider community."
Limelight
Regarding CGM options, Byrne used
a FreeStyle Libre after her play was
accepted to be shown at the Edinburgh
Festival in August 2018. "I'd been having
a lot of hypos," she says, "and the Libre
changed my life, easily knowing what my
blood sugar was, was amazing, but I was
still having a lot of hypos and I needed the
alarms that a Dexcom has. My consultant
had told me about the Dexcom but I
couldn't get in time for my Edinburgh run,
but when I got back, I was put on the
waiting list for it and I got my Dexcom G6
in December." It is the best thing, I think
it's amazing. It can tell me if I'm going up
or down and it can alert me to possible
hypos."
This diabetes technology has certainly
enabled Byrne to be more confident
about performing her play on tour, going
on stage wearing an Omnipod insulin
pump and a Dexcom sensor. But she
takes no chances, "I do hide some juice
in a secret drawer on stage, but I haven't
needed to use it yet. If I did, I would just
do a test on stage and make it part of the
show. In fact I do test myself as part of the
performance anyway, so I do know what's
going on with my control during the act. I
can see the Dexcom results on my phone
and I can see my patterns on the Clarity
app. I wear my Omnipod on my thigh,
and as far as I am aware no one tends
to notice it."
www.prickstheplay.co.uk "I do hide some juice
in a secret drawer on
stage, but I haven't
needed to use it yet. If
I did, I would just do a
test on stage and make
it part of the show.