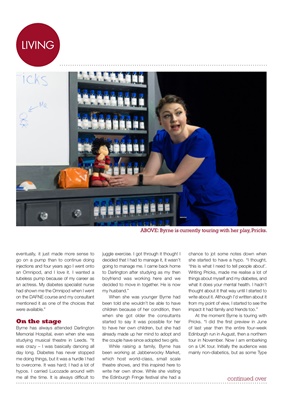 LIVINGLIVING
eventually, it just made more sense to
go on a pump than to continue doing
injections and four years ago I went onto
an Omnipod, and I love it. I wanted a
tubeless pump because of my career as
an actress. My diabetes specialist nurse
had shown me the Omnipod when I went
on the DAFNE course and my consultant
mentioned it as one of the choices that
were available."
On the stage
Byrne has always attended Darlington
Memorial Hospital, even when she was
studying musical theatre in Leeds. "It
was crazy - I was basically dancing all
day long. Diabetes has never stopped
me doing things, but it was a hurdle I had
to overcome. It was hard; I had a lot of
hypos. I carried Lucozade around with
me all the time. It is always difficult to
juggle exercise. I got through it though! I
decided that I had to manage it, it wasn't
going to manage me. I came back home
to Darlington after studying as my then
boyfriend was working here and we
decided to move in together. He is now
my husband."
When she was younger Byrne had
been told she wouldn't be able to have
children because of her condition, then
when she got older the consultants
started to say it was possible for her
to have her own children, but she had
already made up her mind to adopt and
the couple have since adopted two girls.
While raising a family, Byrne has
been working at Jabberwocky Market,
which host world-class, small scale
theatre shows, and this inspired here to
write her own show. While she visiting
the Edinburgh Fringe festival she had a
chance to jot some notes down when
she started to have a hypo. "I thought,
'this is what I need to tell people about'.
Writing Pricks, made me realise a lot of
things about myself and my diabetes, and
what it does your mental health. I hadn't
thought about it that way until I started to
write about it. Although I'd written about it
from my point of view, I started to see the
impact it had family and friends too."
At the moment Byrne is touring with
Pricks. "I did the first preview in June
of last year then the entire four-week
Edinburgh run in August, then a northern
tour in November. Now I am embarking
on a UK tour. Initially the audience was
mainly non-diabetics, but as some Type
ABOVE: Byrne is currently touring with her play, Pricks.
continued over