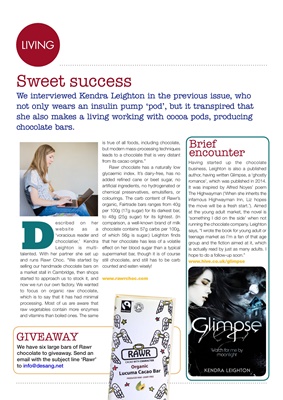 LIVINGLIVING
Having started up the chocolate
business, Leighton is also a published
author, having written Glimpse, a 'ghostly
romance', which was published in 2014.
It was inspired by Alfred Noyes' poem
The Highwayman ('When she inherits the
infamous Highwayman Inn, Liz hopes
the move will be a fresh start.'). Aimed
at the young adult market, the novel is
'something I did on the side' when not
running the chocolate company. Leighton
says, "I wrote the book for young adult or
teenage market as I'm a fan of that age
group and the fiction aimed at it, which
is actually read by just as many adults. I
hope to do a follow-up soon."
Brief
encounter
We interviewed Kendra Leighton in the previous issue, who
not only wears an insulin pump 'pod', but it transpired that
she also makes a living working with cocoa pods, producing
chocolate bars.
D
escribed on her
website as a
'voracious reader and
chocolatier,' Kendra
Leighton is multitalented. With
her partner she set up
and runs Rawr Choc. "We started by
selling our handmade chocolate bars on
a market stall in Cambridge, then shops
started to approach us to stock it, and
now we run our own factory. We wanted
to focus on organic raw chocolate,
which is to say that it has had minimal
processing. Most of us are aware that
raw vegetables contain more enzymes
and vitamins than boiled ones. The same
is true of all foods, including chocolate,
but modern mass-processing techniques
leads to a chocolate that is very distant
from its cacao origins."
Rawr chocolate has a naturally low
glycaemic index. It's dairy-free, has no
added refined cane or beet sugar, no
artificial ingredients, no hydrogenated or
chemical preservatives, emulsifiers, or
colourings.
Sweet success
GIVEAWAY
We have six large bars of Rawr
chocolate to giveaway. Send an
email with the subject line 'Rawr' to
info@desang.net