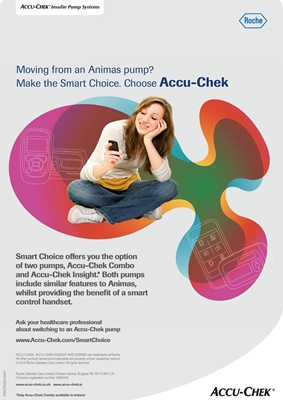 Moving from an Animas pump?
Make the Smart Choice. Choose Accu-Chek
Insulin Pump Systems
ACCU-CHEK, ACCU-CHEK INSIGHT AND COMBO are trademarks of Roche
All other product names and trademarks are property of their respective owners
©2019 Roche Diabetes Care Limited. All rights reserved
Roche Diabetes Care Limited, Charles Avenue, Burgess Hill, RH15 9RY, UK.
Company registration number: 9055599
www.accu-chek.co.uk www.accu-chek.ie
*Only Accu-Chek Combo available in Ireland
Smart Choice offers you the option
of two pumps, Accu-Chek Combo
and Accu-Chek Insight.* Both pumps
include similar features to Animas,
whilst providing the benefi t of a smart
control handset.
Ask your healthcare professional
about switching to an Accu-Chek pump
IDSCONS2019047