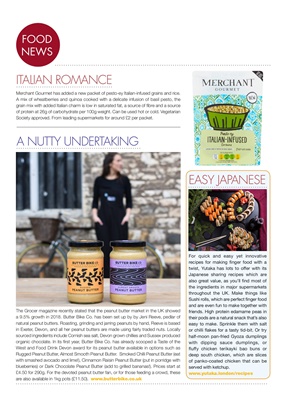 KIT
FOOD
NEWS
ITALIAN ROMANCE
A NUTTY UNDERTAKING
The Grocer magazine recently stated that the peanut butter market in the UK showed
a 9.5% growth in 2018. Butter Bike Co. has been set up by by Jeni Reeve, pedlar of
natural peanut butters. Roasting, grinding and jarring peanuts by hand, Reeve is based
in Exeter, Devon, and all her peanut butters are made using fairly traded nuts. Locally
sourced ingredients include Cornish sea salt, Devon grown chillies and Sussex produced
organic chocolate. In its first year, Butter Bike Co. has already scooped a Taste of the
West and Food Drink Devon award for its peanut butter available in options such as
Rugged Peanut Butter, Almost Smooth Peanut Butter. Smoked Chilli Peanut Butter (eat
with smashed avocado and lime!), Cinnamon Raisin Peanut Butter (put in porridge with
blueberries) or Dark Chocolate Peanut Butter (add to grilled bananas!). Prices start at
£4.50 for 290g. For the devoted peanut butter fan, or for those feeding a crowd, these
are also available in 1kg pots (£11.50). www.butterbike.co.uk
EASY JAPANESE
Merchant Gourmet has added a new packet of pesto-ey Italian-infused grains and rice.
A mix of wheatberries and quinoa cooked with a delicate infusion of basil pesto, the
grain mix with added Italian charm is low in saturated fat, a source of fibre and a source
of protein at 26g of carbohydrate per 100g weight. Can be used hot or cold. Vegetarian
Society approved. From leading supermarkets for around £2 per packet.
For quick and easy yet innovative
recipes for making finger food with a
twist, Yutaka has lots to offer with its
Japanese sharing recipes which are
also great value, as you'll find most of
the ingredients in major supermarkets
throughout the UK. Make things like
Sushi rolls, which are perfect finger food
and are even fun to make together with
friends. High protein edamame peas in
their pods are a natural snack that's also
easy to make. Sprinkle them with salt
or chilli flakes for a tasty tid-bit. Or try
half-moon pan-fried Gyoza dumplings
with dipping sauce dumplings, or
fluffy chicken terikayki bao buns or
deep south chicken, which are slices
of panko-coated chicken that can be
served with ketchup.