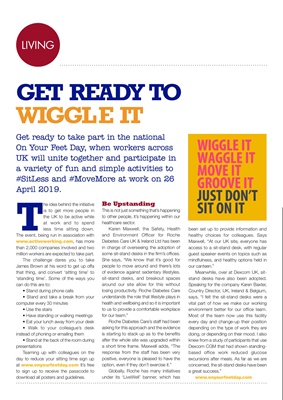 LIVINGLIVING
T
he idea behind the initiative
is to get more people in
the UK to be active while
at work and to spend
less time sitting down.
The event, being run in association with
www.activeworking.com, has more
than 2,000 companies involved and two
million workers are expected to take part.
The challenge dares you to take
James Brown at his word to get up offa
that thing, and convert 'sitting time' to
'standing time'. Some of the ways you
can do this are to:
• Stand during phone calls
• Stand and take a break from your
computer every 30 minutes
• Use the stairs
• Have standing or walking meetings
• Eat your lunch away from your desk
• Walk to your colleague's desk
instead of phoning or emailing them
• Stand at the back of the room during
presentations
Teaming up with colleagues on the
day to reduce your sitting time sign up
at www.onyourfeetday.com It's free
to sign up to receive the passcode to
download all posters and guidelines.
GET READY TO
WIGGL E IT
Get ready to take part in the national
On Your Feet Day, when workers across
UK will unite together and participate in
a variety of fun and simple activities to
#SitLess and #MoveMore at work on 26
April 2019.
Be Upstanding
This is not just something that's happening
to other people, it's happening within our
healthcare sector.
Karen Maxwell, the Safety, Health
and Environment Officer for Roche
Diabetes Care UK & Ireland Ltd has been
in charge of overseeing the adoption of
some sit-stand desks in the firm's offices.
She says, "We know that it's good for
people to move around and there's lots
of evidence against sedentary lifestyles.
sit-stand desks, and breakout spaces
around our site allow for this without
losing productivity. Roche Diabetes Care
understands the role that lifestyle plays in
health and wellbeing and so it is important
to us to provide a comfortable workplace
for our team."
Roche Diabetes Care's staff had been
asking for this approach and the evidence
is starting to stack up as to the benefits
after the whole site was upgraded within
a short time frame. Maxwell adds, "The
response from the staff has been very
positive, everyone is pleased to have the
option, even if they don't exercise it."
Globally, Roche has many initiatives
under its 'LiveWell' banner, which has
been set up to provide information and
healthy choices for colleagues. Says
Maxwell, "At our UK site, everyone has
access to a sit-stand desk, with regular
guest speaker events on topics such as
mindfulness, and healthy options held in
our canteen."
Meanwhile, over at Dexcom UK, sitstand desks have also been adopted.
Speaking for the company Karen Baxter,
Country Director, UK, Ireland & Belgium,
says, "I felt the sit-stand desks were a
vital part of how we make our working
environment better for our office team.
Most of the team now use this facility
every day and change-up their position
depending on the type of work they are
doing, or depending on their mood. I also
knew from a study of participants that use
Dexcom CGM that had shown standingbased office
work reduced glucose
excursions after meals. As far as we are
concerned, the sit-stand desks have been
a great success."