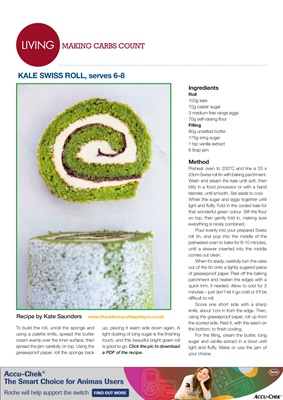 LIVINGLIVING
KALE SWISS ROLL, serves 6-8
Ingredients
Roll
100g kale
70g caster sugar
3 medium free range eggs
70g self-raising flour
Filling
80g unsalted butter
175g icing sugar
1 tsp vanilla extract
6 tbsp jam
Method
Preheat oven to 200°C and line a 33 x
23cm Swiss roll tin with baking parchment.
Wash and steam the kale until soft, then
blitz in a food processor or with a hand
blender, until smooth. Set aside to cool.
Whisk the sugar and eggs together until
light and fluffy. Fold in the cooled kale for
that wonderful green colour. Sift the flour
on top, then gently fold in, making sure
everything is nicely combined.
Pour evenly into your prepared Swiss
roll tin, and pop into the middle of the
preheated oven to bake for 8-10 minutes,
until a skewer inserted into the middle
comes out clean.
When it's ready, carefully turn the cake
out of the tin onto a lightly sugared piece
of greaseproof paper. Peel off the baking
parchment and neaten the edges with a
quick trim, if needed. Allow to cool for 3
minutes - just don't let it go cold or it'll be
difficult to roll.
Score one short side with a sharp
knife, about 1cm in from the edge. Then,
using the greaseproof paper, roll up from
the scored side. Rest it, with the seam on
the bottom, to finish cooling.
For the filling, cream the butter, icing
sugar and vanilla extract in a bowl until
light and fluffy. Make or use the jam of
your choice.
MAKING CARBS COUNT
Recipe by Kate Saunders www.blackberrycottage.com
To build the roll, unroll the sponge and
using a palette knife, spread the butter
cream evenly over the inner surface, then
spread the jam carefully on top. Using the
greaseproof paper, roll the sponge back
up, placing it seam side down again. A
light dusting of icing sugar is the finishing
touch, and this beautiful bright green roll
is good to go. Click the pic to download
a PDF of the recipe.