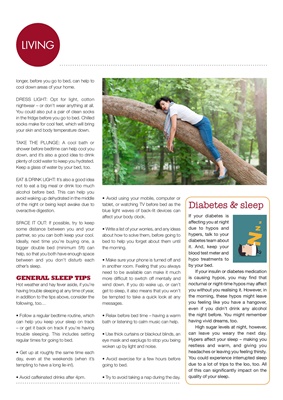 LIVINGLIVING
longer, before you go to bed, can help to
cool down areas of your home.
DRESS LIGHT: Opt for light, cotton
nightwear - or don't wear anything at all.
You could also put a pair of clean socks
in the fridge before you go to bed. Chilled
socks make for cool feet, which will bring
your skin and body temperature down.
TAKE THE PLUNGE: A cool bath or
shower before bedtime can help cool you
down, and it's also a good idea to drink
plenty of cold water to keep you hydrated.
Keep a glass of water by your bed, too.
EAT & DRINK LIGHT: It's also a good idea
not to eat a big meal or drink too much
alcohol before bed. This can help you
avoid waking up dehydrated in the middle
of the night or being kept awake due to
overactive digestion.
SPACE IT OUT: If possible, try to keep
some distance between you and your
partner, so you can both keep your cool.
Ideally, next time you're buying one, a
bigger double bed (minimum 5ft) can
help, so that you both have enough space
between and you don't disturb each
other's sleep.
GENERAL SLEEP TIPS
Hot weather and hay fever aside, if you're
having trouble sleeping at any time of year,
in addition to the tips above, consider the
following, too…
• Follow a regular bedtime routine, which
can help you keep your sleep on track
- or get it back on track if you're having
trouble sleeping. This includes setting
regular times for going to bed.
• Get up at roughly the same time each
day, even at the weekends (when it's
tempting to have a long lie-in!).
• Avoid caffeinated drinks after 4pm.
• Avoid using your mobile, computer or
tablet, or watching TV before bed as the
blue light waves of back-lit devices can
affect your body clock.
• Write a list of your worries, and any ideas
about how to solve them, before going to
bed to help you forget about them until
the morning.
• Make sure your phone is turned off and
in another room. Feeling that you always
need to be available can make it much
more difficult to switch off mentally and
wind down. If you do wake up, or can't
get to sleep, it also means that you won't
be tempted to take a quick look at any
messages.
• Relax before bed time - having a warm
bath or listening to calm music can help.
• Use thick curtains or blackout blinds, an
eye mask and earplugs to stop you being
woken up by light and noise.
• Avoid exercise for a few hours before
going to bed.
• Try to avoid taking a nap during the day.
If your diabetes is
affecting you at night
due to hypos and
hypers, talk to your
diabetes team about
it. And, keep your
blood test meter and
hypo treatments to
by your bed.
If your insulin or diabetes medication
is causing hypos, you may find that
nocturnal or night-time hypos may affect
you without you realising it. However, in
the morning, these hypos might leave
you feeling like you have a hangover,
even if you didn't drink any alcohol
the night before. You might remember
having vivid dreams, too.
High sugar levels at night, however,
can leave you weary the next day.
Hypers affect your sleep - making you
restless and warm, and giving you
headaches or leaving you feeling thirsty.
You could experience interrupted sleep
due to a lot of trips to the loo, too. All
of this can significantly impact on the
quality of your sleep.
Diabetes & sleep