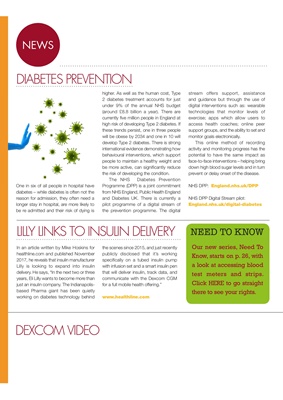 NEWS
DEXCOM VIDEO
DIABETES PREVENTION
higher. As well as the human cost, Type
2 diabetes treatment accounts for just
under 9% of the annual NHS budget
(around £8.8 billion a year). There are
currently five million people in England at
high risk of developing Type 2 diabetes. If
these trends persist, one in three people
will be obese by 2034 and one in 10 will
develop Type 2 diabetes. There is strong
international evidence demonstrating how
behavioural interventions, which support
people to maintain a healthy weight and
be more active, can significantly reduce
the risk of developing the condition.
The NHS Diabetes Prevention
Programme (DPP) is a joint commitment
from NHS England, Public Health England
and Diabetes UK. There is currently a
pilot programme of a digital stream of
the prevention programme. The digital
One in six of all people in hospital have
diabetes - while diabetes is often not the
reason for admission, they often need a
longer stay in hospital, are more likely to
be re admitted and their risk of dying is
In an article written by Mike Hoskins for
healthline.com and published November
2017, he reveals that insulin manufacturer
Lilly is looking to expand into insulin
delivery. He says, "In the next two or three
years, Eli Lilly wants to become more than
just an insulin company. The Indianapolisbased Pharma giant has been quietly
working on diabetes technology behind
LILLY LINKS TO INSULIN DELIVERY
stream offers support, assistance
and guidance but through the use of
digital interventions such as: wearable
technologies that monitor levels of
exercise; apps which allow users to
access health coaches; online peer
support groups, and the ability to set and
monitor goals electronically.
This online method of recording
activity and monitoring progress has the
potential to have the same impact as
face-to-face interventions - helping bring
down high blood sugar levels and in turn
prevent or delay onset of the disease.
NHS DPP: England.nhs.uk/DPP
NHS DPP Digital Stream pilot:
England.nhs.uk/digital-diabetes
the scenes since 2015, and just recently
publicly disclosed that it's working
specifically on a tubed insulin pump
with infusion set and a smart insulin pen
that will deliver insulin, track data, and
communicate with the Dexcom CGM
for a full mobile health offering."
NEED TO KNOW
Our new series, Need To
Know, starts on p. 26, with
a look at accessing blood
test meters and strips.
Click HERE to go straight
there to see your rights.