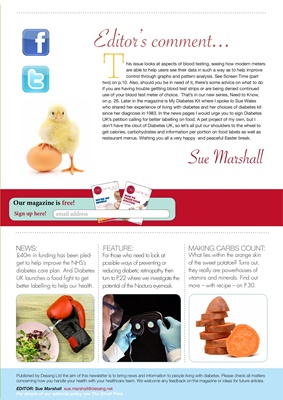 Published by Desang Ltd the aim of this newsletter is to bring news and information to people living with diabetes. Please check all matters
concerning how you handle your health with your healthcare team. We welcome any feedback on the magazine or ideas for future articles.
EDITOR: Sue Marshall sue.marshall@desang.net
For details of our editorial policy see The Small Print.
£40m in funding has been pledget to help improve the NHS's
diabetes care plan. And Diabetes
UK launches a food fight to get
better labelling to help our health.
Sue Marshall
What lies within the orange skin
of the sweet potatoe? Turns out,
they really are powerhouses of
vitamins and minerals. Find out
more - with recipe - on P.30.
This issue looks at aspects of blood testing, seeing how modern meters
are able to help users see their data in such a way as to help improve
control through graphs and pattern analysis. See Screen Time (part
two) on p.10. Also, should you be in need of it, there's some advice on what to do
if you are having trouble gettting blood test strips or are being denied continued
use of your blood test meter of choice. That's in our new series, Need to Know, on
p. 26. Later in the magazine is My Diabetes Kit where I spoke to Sue Wales who
shared her experience of living with diabetes and her choices of diabetes kit since
her diagnosis in 1983. In the news pages I would urge you to sign Diabetes UK's
petition calling for better labelling on food a pet project of my own, but I don't have
the clout of Diabetes UK so let's all put our shoulders to the wheel to get calories,
carbohydrates and information per portion on food labels restaurant menus too. In
the meantime, I wishyou all a very happy Easter break.
Editor's comment...
ISSUE 30
MAGAZINE
DESANG
PLUS • New Products • Groovy giveaways • News (for T1 and T2)
WE'RE NO
ANGELS
But business as usual is best for
diabetics at Christmas
MAKING
CARBS COUNT:
CHESTNUTS ROASTING
ON OPEN FIRES
Our magazine is free!
Sign up here! email address
FEATURE:
For those who need to look at
possible ways of preventing or
reducing diabetic retinopathy then
turn to P.22 where we investigate the
potential of the Noctura eyemask.
NEWS: MAKING CARBS COUNT: