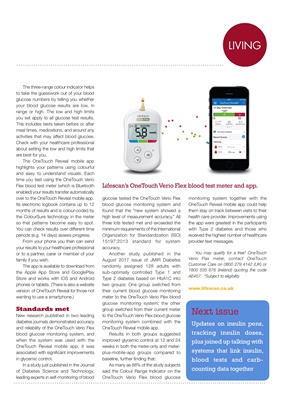 KITLIVING
The three-range colour indicator helps
to take the guesswork out of your blood
glucose numbers by telling you whether
your blood glucose results are low, in
range or high. The low and high limits
you set apply to all glucose test results.
This includes tests taken before or after
meal times, medications, and around any
activities that may affect blood glucose.
Check with your healthcare professional
about setting the low and high limits that
are best for you.
The OneTouch Reveal mobile app
highlights your patterns using colourful
and easy to understand visuals. Each
time you test using the OneTouch Verio
Flex blood test meter (which is Bluetooth
enabled) your results transfer automatically
over to the OneTouch Reveal mobile app.
Its electronic logbook contains up to 12
months of results and is colour-coded by
the ColourSure technology in the meter
so that patterns become easy to spot.
You can check results over different time
periods (e.g. 14 days) assess progress.
From your phone you then can send
your results to your healthcare professional
or to a partner, carer or member of your
family if you wish.
The app is available to download from
the Apple App Store and GooglePlay
Store and works with iOS and Android
phones or tablets. (There is also a website
version of OneTouch Reveal for those not
wanting to use a smartphone.)
Standards met
New research published in two leading
diabetes journals demonstrated accuracy
and reliability of the OneTouch Verio Flex
blood glucose monitoring system, and
when the system was used with the
OneTouch Reveal mobile app, it was
associated with significant improvements
in glycemic control.
In a study just published in the Journal
of Diabetes Science and Technology,
leading experts in self-monitoring of blood
glucose tested the OneTouch Verio Flex
blood glucose monitoring system and
found that the "new system showed a
high level of measurement accuracy." All
three lots tested met and exceeded the
minimum requirements of the International
Organization for Standardization (ISO)
15197:2013 standard for system
accuracy.
Another study published in the
August 2017 issue of JMIR Diabetes
randomly assigned 128 adults with
sub-optimally controlled Type 1 and
Type 2 diabetes based on HbA1C into
two groups: One group switched from
their current blood glucose monitoring
meter to the OneTouch Verio Flex blood
glucose monitoring system; the other
group switched from their current meter
to the OneTouch Verio Flex blood glucose
monitoring system combined with the
OneTouch Reveal mobile app.
Results in both groups suggested
improved glycemic control at 12 and 24
weeks in both the meter-only and meterplus-mobile-app
groups compared to
baseline, further finding that:
As many as 88% of the study subjects
said the Colour Range Indicator on the
OneTouch Verio Flex blood glucose
monitoring system together with the
OneTouch Reveal mobile app could help
them stay on track between visits to their
health care provider. Improvements using
the app were greatest in the participants
with Type 2 diabetes and those who
received the highest number of healthcare
provider text messages.
You may qualify for a free* OneTouch
Verio Flex meter, contact OneTouch
Customer Care on 0800 279 4142 (UK) or
1800 535 676 (Ireland) quoting the code
AE457. *Subject to eligibility
Lifescan's OneTouch Verio Flex blood test meter and app.
Next issue
Updates on insulin pens,
tracking insulin doses,
plus joined up talking with
systems that link insulin,
blood tests and carbcounting data together