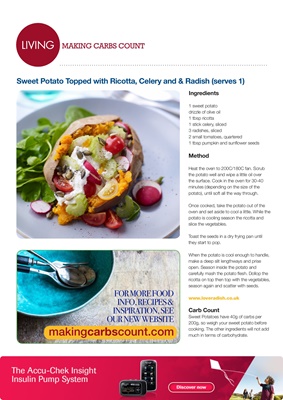 LIVINGLIVING
Sweet Potato Topped with Ricotta, Celery and & Radish (serves 1)
Ingredients
1 sweet potato
drizzle of olive oil
1 tbsp ricotta
1 stick celery, sliced
3 radishes, sliced
2 small tomatoes, quartered
1 tbsp pumpkin and sunflower seeds
MAKING CARBS COUNT
Method
1.
Heat the oven to 200C/180C fan. Scrub
the potato well and wipe a little oil over
the surface. Cook in the oven for 30-40
minutes (depending on the size of the
potato), until soft all the way through.
Once cooked, take the potato out of the
oven and set aside to cool a little. While the
potato is cooling season the ricotta and
slice the vegetables.
Toast the seeds in a dry frying pan until
they start to pop.
When the potato is cool enough to handle,
make a deep slit lengthways and prise
open. Season inside the potato and
carefully mash the potato flesh. Dollop the
ricotta on top then top with the vegetables,
season again and scatter with seeds.
Carb Count
Sweet Potatoes have 40g of carbs per
200g, so weigh your sweet potato before
cooking. The other ingredients will not add
much in terms of carbohydrate.
FOR MORE FOOD
INFO, RECIPES &
INSPIRATION, SEE
OUR NEW WEBSITE
makingcarbscount.com