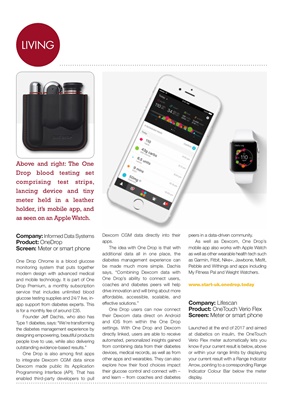 LIVINGLIVING
Dexcom CGM data directly into their
apps.
The idea with One Drop is that with
additional data all in one place, the
diabetes management experience can
be made much more simple. Dachis
says, "Combining Dexcom data with
One Drop's ability to connect users,
coaches and diabetes peers will help
drive innovation and will bring about more
affordable, accessible, scalable, and
effective solutions."
One Drop users can now connect
their Dexcom data direct on Android
and iOS from within the One Drop
settings. With One Drop and Dexcom
directly linked, users are able to receive
automated, personalized insights gained
from combining data from their diabetes
devices, medical records, as well as from
other apps and wearables. They can also
explore how their food choices impact
their glucose control and connect with -
and learn - from coaches and diabetes
peers in a data-driven community.
As well as Dexcom, One Drop's
mobile app also works with Apple Watch
as well as other wearable health tech such
as Garmin, Fitbit, Nike+, Jawbone, Misfit,
Pebble and Withings and apps including
My Fitness Pal and Weight Watchers.
Company: Lifescan
Product: OneTouch Verio Flex
Screen: Meter or smart phone
Launched at the end of 2017 and aimed
at diabetics on insulin, the OneTouch
Verio Flex meter automatically lets you
know if your current result is below, above
or within your range limits by displaying
your current result with a Range Indicator
Arrow, pointing to a corresponding Range
Indicator Colour Bar below the meter
display.
Company: Informed Data Systems Inc.)
Product: OneDrop
Screen: Meter or smart phone
One Drop Chrome is a blood glucose
monitoring system that puts together
modern design with advanced medical
and mobile technology. It is part of One
Drop Premium, a monthly subscription
service that includes unlimited blood
glucose testing supplies and 24/7 live, inapp support
from diabetes experts. This
is for a monthly fee of around £35.
Founder Jeff Dachis, who also has
Type 1 diabetes, says: "We're transforming
the diabetes management experience by
designing empowering, beautiful products
people love to use, while also delivering
outstanding evidence-based results."
One Drop is also among first apps
to integrate Dexcom CGM data since
Dexcom made public its Application
Programming Interface (API). That has
enabled third-party developers to pull
Above and right: The One
Drop blood testing set
comprising test strips,
lancing device and tiny
meter held in a leather
holder, it's mobile app, and
as seen on an Apple Watch.