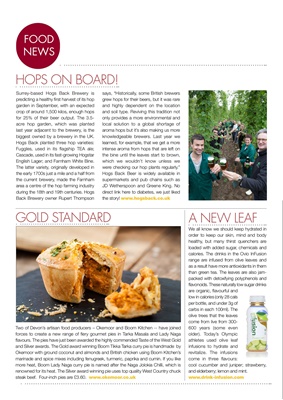 LIVINGLIVING
FOOD
NEWS
HOPS ON BOARD!
GOLD STANDARD A NEW LEAF
Surrey-based Hogs Back Brewery is
predicting a healthy first harvest of its hop
garden in September, with an expected
crop of around 1,500 kilos, enough hops
for 25% of their beer output. The 3.5acre
hop garden, which was planted
last year adjacent to the brewery, is the
biggest owned by a brewery in the UK.
Hogs Back planted three hop varieties:
Fuggles, used in its flagship TEA ale;
Cascade, used in its fast-growing Hogstar
English Lager; and Farnham White Bine.
The latter variety, originally developed in
the early 1700s just a mile and a half from
the current brewery, made the Farnham
area a centre of the hop farming industry
during the 18th and 19th centuries. Hogs
Two of Devon's artisan food producers - Okemoor and Boom Kitchen -- have joined
forces to create a new range of fiery gourmet pies in Tarka Masala and Lady Naga
flavours. The pies have just been awarded the highly commended Taste of the West Gold
and Silver awards. The Gold award winning Boom Tikka Tarka curry pie is handmade by
Okemoor with ground coconut and almonds and British chicken using Boom Kitchen's
marinade and spice mixes including fenugreek, turmeric, paprika and cumin. If you like
more heat, Boom Lady Naga curry pie is named after the Naga Jolokia Chilli, which is
renowned for its heat. The Silver award winning pie uses top quality West Country chuck
steak beef. Four-inch pies are £3.60.
We all know we should keep hydrated in
order to keep our skin, mind and body
healthy, but many thirst quenchers are
loaded with added sugar, chemicals and
calories. The drinks in the Ovio InFusion
range are infused from olive leaves and
as a result have more antioxidants in them
than green tea. The leaves are also jampacked with
detoxifying polyphenols and
flavonoids. These naturally low sugar
drinks are organic, flavourful and low in
calories (only 28 calories per bottle, and
under 3g of carbs in each
100ml). The olive trees
that the leaves come from
generally live from 300-600
years (some even older).
Today's Olympic athletes
used olive leaf infusions to
hydrate and revitalize. The
infusions come in three
flavours: cool cucumber
and juniper; strawberry,
and elderberry; lemon and
mint.
Back Brewery owner Rupert Thompson
says, "Historically, some British brewers
grew hops for their beers, but it was rare
and highly dependent on the location
and soil type. Reviving this tradition not
only provides a more environmental and
local solution to a global shortage of
aroma hops but it's also making us more
knowledgeable brewers. Last year we
learned, for example, that we get a more
intense aroma from hops that are left on
the bine until the leaves start to brown,
which we wouldn't know unless we
were checking our hop plants regularly."
Hogs Back Beer is widely available in
supermarkets and pub chains such as JD
Wetherspoon and Greene King.