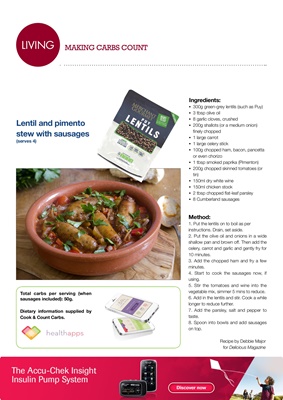 LIVINGLIVING
Lentil and pimento stew with sausages
(serves 4)
Ingredients:
• 300g green-grey lentils (such as
Puy)
• 3 tbsp olive oil
• 8 garlic cloves, crushed
• 200g shallots (or a medium onion)
finely chopped
• 1 large carrot
• 1 large celery stick
• 100g chopped ham, bacon, pancetta or even chorizo
• 1 tbsp smoked paprika (Pimenton)
• 200g chopped skinned tomatoes
(or tin)
• 150ml dry white wine
• 150ml chicken stock
• 2 tbsp chopped flat-leaf parsley
• 8 Cumberland sausages
MAKING CARBS COUNT
Total carbs per serving (when
sausages included): 50g.
Dietary information supplied by
Cook & Count Carbs.
Recipe by Debbie Church for Delicious Magazine
1. Put the lentils on to boil as per
instructions. Drain, set aside.
2. Put the olive oil and onions in a wide
shallow pan and brown off. Then add the
celery, carrot and garlic and gently fry for
10 minutes.
3. Add the chopped ham and fry a few
minutes.
4. Start to cook the sausages now, if
using.
5. Stir the tomatoes and wine into the
vegetable mix, simmer 5 mins to reduce.
6. Add in the lentils and stir. Cook a while
longer to reduce further.
7. Add the parsley, salt and pepper to
taste.
8. Spoon into bowls and add sausages
on top.