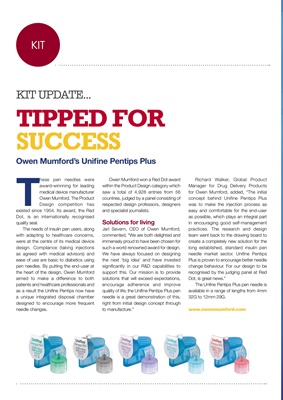 KIT
KIT UPDATE...
TIPPED FOR
SUCCESS
T
hese pen needles were
award-winnning for leading
medical device manufacturer
Owen Mumford. The Product
Design competition has
existed since 1954. Its award, the Red
Dot, is an internationally recognised
quality seal.
The needs of insulin pen users, along
with adapting to healthcare concerns,
were at the centre of its medical device
design. Compliance (taking injections
as agreed with medical advisors) and
ease of use are basic to diabetics using
pen needles. By putting the end-user at
the heart of the design, Owen Mumford
aimed to make a difference to both
patients and healthcare professionals and
as a result the Unifine Pentips now have
a unique integrated disposal chamber
designed to encourage more frequent
needle changes.
Owen Mumford's Unifine Pentips Plus
Owen Mumford won a Red Dot award
within the Product Design category which
saw a total of 4,928 entries from 56
countries, judged by a panel consisting of
respected design professors, designers
and specialist journalists.
Solutions for living
Jarl Severn, CEO of Owen Mumford,
commented, "We are both delighted and
immensely proud to have been chosen for
such a world renowned award for design.
We have always focused on designing
the next 'big idea' and have invested
significantly in our R&D capabilities to
support this. Our mission is to provide
solutions that will exceed expectations,
encourage adherence and improve
quality of life; the Unifine Pentips Plus pen
needle is a great demonstration of this,
right from initial design concept through
to manufacture."
Richard Walker, Global Product
Manager for Drug Delivery Products
for Owen Mumford, added, "The initial
concept behind Unifine Pentips Plus
was to make the injection process as
easy and comfortable for the end-user
as possible, which plays an integral part
in encouraging good self-management
practices. The research and design
team went back to the drawing board to
create a completely new solution for the
long established, standard insulin pen
needle market sector. Unifine Pentips
Plus is proven to encourage better needle
change behaviour. For our design to be
recognised by the judging panel at Red
Dot, is great news."
The Unfine Pentips Plus pen needle is
available in a range of lengths from 4mm
32G to 12mm 29G.