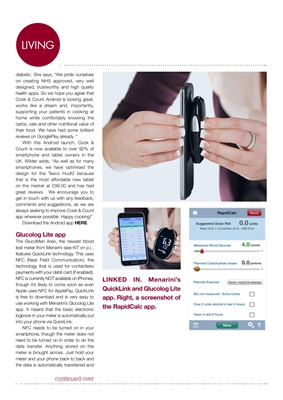 Menarini's
QuickLink and Glucolog Lite
app. Right, a screenshot of
the RapidCalc app.
diabetic. She says, "We pride ourselves
on creating NHS approved, very well
designed, trustworthy and high quality
health apps. So we hope you agree that
Cook & Count Android is looking great,
works like a dream and, importantly,
supporting your patients in cooking at
home while comfortably knowing the
carbs, cals and other nutritional value of
their food. We have had some brilliant
reviews on GooglePlay already. "
With this Android launch, Cook &
Count is now available to over 92% of
smartphone and tablet owners in the
UK. Wilder adds, "As well as for many
smartphones, we have optimised the
design for the Tesco Hudl2 because
that is the most affordable new tablet
on the market at £99.00 and has had
great reviews. We encourage you to
get in touch with us with any feedback,
comments and suggestions, as we are
always seeking to improve Cook & Count
app wherever possible. Happy cooking!"
Download the Android app HERE.
Glucolog Lite app
The GlucoMen Areo, the newest blood
test meter from Menarini (see KIT on p.) ,
features QuickLink technology. This uses
NFC (Near Field Communication), the
technology that is used for contactless
payments with your debit card (if enabled).
NFC is currently NOT available on iPhones,
though it's likely to come soon as even
Apple uses NFC for ApplePay. QuickLink
is free to download and is very easy to
use working with Menarini's Glucolog Lite
app. It means that the basic electronic
logbook in your meter is automatically put
into your phone via QuickLink.
NFC needs to be turned on in your
smartphone, though the meter does not
need to be turned on in order to do the
data transfer. Anything stored on the
meter is brought across. Just hold your
meter and your phone back to back and
the data is automatically transferred and