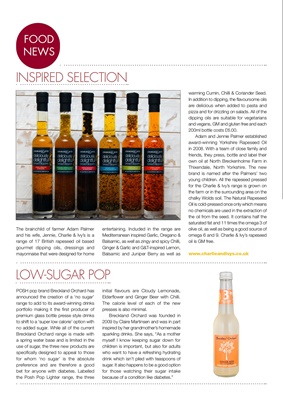 LIVINGLIVING
FOOD
The brainchild of farmer Adam Palmer
and his wife, Jennie, Charlie & Ivy's is a
range of 17 British rapeseed oil based
gourmet dipping oils, dressings and
mayonnaise that designed for home
entertaining. Included in the range are
Mediterranean inspired Garlic, Oregano &
Balsamic, as well as zingy and spicy Chilli,
Ginger & Garlic and G&T-inspired Lemon,
Balsamic and Juniper Berry as well as
warming Cumin, Chilli & Coriander Seed.
In addition to dipping, the flavoursome oils
are delicious when added to pasta and
pizza and for drizzling on salads. All of the
dipping oils are suitable for vegetarians
and vegans, GM and gluten free and each
200ml bottle costs £6.00.
Adam and Jennie Palmer established
award-winning Yorkshire Rapeseed Oil
in 2008. With a team of close family and
friends, they press, bottle and label their
own oil at North Breckenholme Farm in
Thixendale, North Yorkshire. The new
brand is named after the Palmers' two
young children. All the rapeseed pressed
for the Charlie & Ivy's range is grown on
the farm or in the surrounding area on the
chalky Wolds soil. The Natural Rapeseed
Oil is cold-pressed once only which means
no chemicals are used in the extraction of
the oil from the seed. It contains half the
saturated fat and 11 times the omega 3 of
olive oil, as well as being a good source of
omega 6 and 9. Charlie & Ivy's rapeseed
oil is GM free.
POSH pop brand Breckland Orchard has
annaounced the creation of a 'no sugar'
range to add to its award-winning drinks
portfolio making it the first producer of
premium glass bottle presse style drinks
to shift to a 'super low calorie' option with
no added sugar. While all of the current
Breckland Orchard range is made with
a spring water base and is limited in the
use of sugar, the three new products are
specifically designed to appeal to those
for whom 'no sugar' is the absolute
preference and are therefore a good
bet for anyone with diabetes. Labelled
the Posh Pop Lighter range, the three
initial flavours are Cloudy Lemonade,
Elderflower and Ginger Beer with Chilli.
The calorie level of each of the new
presses is also minimal.
Breckland Orchard was founded in
2009 by Claire Martinsen and was in part
inspired by her grandmother's homemade
sparkling drinks. She says, "As a mother
myself I know keeping sugar down for
children is important, but also for adults
who want to have a refreshing hydrating
drink which isn't piled with teaspoons of
sugar. It also happens to be a good option
for those watching their sugar intake
because of a condition like diabetes."
LOW-SUGAR POP