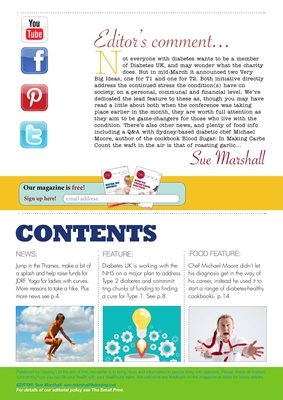 CONTENTS
Published by Desang Ltd the aim of this newsletter is to bring news and information to people living with diabetes. Please check all matters
concerning how you handle your health with your healthcare team. We welcome any feedback on the magazine or ideas for future articles.
EDITOR: Sue Marshall sue.marshall@desang.netshall" target="_blank" title="Visit sue.marshall">sue.marshall@desang.net
For details of our editorial policy see The Small Print.
Diabetes UK is working with the
NHS on a major plan to address
Type 2 diabetes as well as commmitting large amounts to finding
a cure for Type 1 on p.8. Sue Marshall
NEWS:
Jump in the Thames, make a bit of
a splash and help raise funds for
JDRF. For more news see p.10. Not everyone with diabetes wants to be a member
of Diabetes UK, and may wonder what the charity
does. But in March it announced two Very Big
Ideas, one for T1 and one for T2 that directly address the
continued stress the condition(s) have on society, on a
personal, communal and financial level. We've dedicated the
lead feature to these, though you are likely to have read a
little about both when the conference with happening in midMarch.
There's other news, and plenty of food info including
a Q&A with Sydney-based diabetic chef Michael Moore,
author of the cookbook Blood Sugar. Still on the scent of
scrumptiousness, in Making Carbs Count it's roasting garlic
we can smell...
Editor's comment...
ISSUE 30
MAGAZINE
DESANG
PLUS • New Products • Groovy giveaways • News (for T1 and T2)
WE'RE NO
ANGELS
But business as usual is best for
diabetics at Christmas
MAKING
CARBS COUNT:
CHESTNUTS ROASTING
ON OPEN FIRES
Our magazine is free!
Sign up here! email address FEATURE:
Chef Michael Moore didn't let
his diagnosis get in the way of
his career and passion, instead
he used it to start a range of
diabetes-healthy cookbooks. p.
FOOD FEATURE: