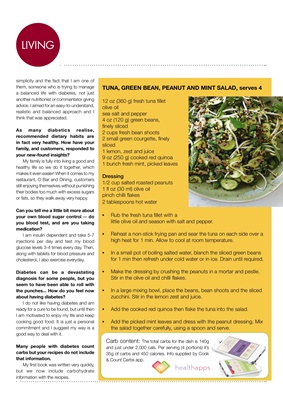 LIVINGLIVING
simplicity and the fact that I am one of
them, someone who is trying to manage
a balanced life with diabetes, not just
another nutritionist or commentator giving
advice. I aimed for an easy-to-understand,
realistic and balanced approach and I
think that was appreciated.
As many diabetics realise,
recommended dietary habits are
in fact very healthy. How have your
family, and customers, responded to
your new-found insights?
My family is fully into living a good and
healthy life so we do it together, which
makes it even easier! When it comes to my
restaurant, O Bar and Dining, customers
still enjoying themselves without punishing
their bodies too much with excess sugars
or fats, so they walk away very happy.
Can you tell me a little bit more about
your own blood sugar control -- do
you blood test, and are you taking
medication?
I am insulin dependent and take 5-7
injections per day and test my blood
glucose levels 3-4 times every day. Then,
along with tablets for blood pressure and
cholesterol, I also exercise everyday.
Diabetes can be a devastating
diagnosis for some people, but you
seem to have been able to roll with
the punches... How do you feel now
about having diabetes?
I do not like having diabetes and am
ready for a cure to be found, but until then
I am motivated to enjoy my life and keep
cooking good food. It is just a personal
commitment and I suggest my way is a
good way to deal with it.
Many people with diabetes count
carbs but your recipes do not include
that information.
My first book was written very quickly,
but we now include carbohydrate
information with the recipes.
TUNA, GREEN BEAN, PEANUT AND MINT SALAD, serves 4
12 oz (360 g) fresh tuna fillet
olive oil
sea salt and pepper
4 oz (120 g) green beans,
finely sliced
2 cups fresh bean shoots
2 small green courgette, finely
sliced
1 lemon, zest and juice
9 oz (250 g) cooked red quinoa
1 bunch fresh mint, picked
leaves
Dressing
1/2 cup salted roasted peanuts
1 fl oz (30 ml) olive oil
pinch chilli flakes
2 tablespoons hot water
• Rub the fresh tuna fillet with a little olive oil and season with sea
salt and pepper.
• Reheat a non-stick frying pan and sear the tuna on each side
over a high heat for 1 minute. Allow to cool at
• room temperature.
• In a small pot of boiling salted water, blanch the sliced green
beans for 1 minute then refresh under cold
• water or in ice. Drain until required.
• Make the dressing by crushing the peanuts in a mortar and
pestle. Stir in the olive oil and chilli flakes.
• Adjust the thickness with some hot water.
• In a large mixing bowl, place the beans, bean shoots and the
sliced zucchini. Stir in the lemon zest and
• juice.
• Add the cooked red quinoa then flake the tuna into the salad.
Add the picked mint leaves and dress with the
• peanut dressing. Mix the salad together carefully, using a
spoon.