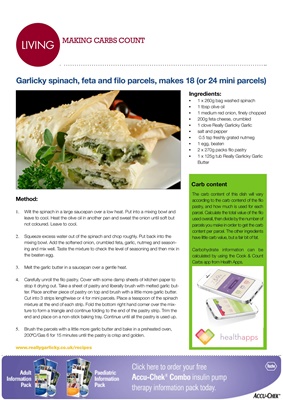 LIVINGLIVING
The carb content of this dish in total is 90g
of carbohydrate. If four servings, then per
serving is 22.5g. Total protein is 60g so 15g
per serving.
Carbohydrate information supplied by
Cook & Count Carbs from Health Apps.
Quinoa salad with feta, tenderstem and pomegranate, serves 4
Carb content
Method:
1.cook the quinoa according to the
packet instructions (some just need
microwaving). Leave to cool.
2.meanwhile, the tenderstem can be
cut into small bite-size pieces and either
lightly steamed or boiled, until just tender
(4-5 minutes) and leave to cool.
3.heat a small frying pan and lightly toast
the pumpkin seeds until they are slightly
crunchy. Remove from the pan and leave
to cool.
4.once the quinoa and tenderstem are
cool, stir together along with the feta,
pomegranate seeds, herbs, tomato,
spring onions, olive oil and lemon juice.
Season with a little salt, (the feta cheese
will add a salty flavour) and a good twist
of black pepper. Toss together until
everything is combined and either serve
straight away or keep in the fridge.
Ingredients:
• 300g quinoa
• 200g pack Tenderstem broccoli
• 1 large handful of pumpkin seeds
• 200g feta cheese, crumbled
• Seeds from 1 pomegranate
• 1 large handful of mint leaves,
chopped
• 1 large handful of flat-leaf parsley,
chopped
• 3-4 ripe tomatoes, deseeded and
chopped
• 1 bunch spring onions, finely sliced
• olive oil and lemon juice to dress
MAKING CARBS COUNT