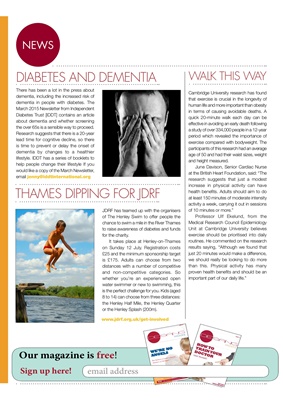 NEWS
ISSUE 30
MAGAZINE
DESANG
PLUS • New Products • Groovy giveaways • News (for T1 and T2)
WE'RE NO
ANGELS
But business as usual is best for
diabetics at Christmas
MAKING
CARBS COUNT:
CHESTNUTS ROASTING
ON OPEN FIRES
Our magazine is free!
Sign up here! email address
DIABETES AND DEMENTIA
There has been a lot in the press about
dementia, including the increased risk of
dementia in people with diabetes. The
March 2015 Newsletter from InDependent
Diabetes Trust [IDDT] contains an article
about dementia and whether screening
the over 65s is a sensible way to proceed.
Research suggests that there is a 20-year
lead time for cognitive decline, so there
is time to prevent or delay the onset of
dementia by changes to a healthier
lifestyle. IDDT has a series of booklets to
help people change their lifestyle If you
would like a copy of the March Newsletter,
email jenny@iddtinternational.orgnternational.org" target="_blank" title="Visit iddtinternational.org">iddtinternational.org
THAMES DIPPING FOR JDRF
JDRF has teamed up with the organisers
of The Henley Swim to offer people the
chance to swim a mile in the River Thames
to raise awareness of diabetes and funds
for the charity.
It takes place at Henley-on-Thames
on Sunday 12 July. Registration costs
£25 and the minimum sponsorship target
is £175. Adults can choose from two
distances with a number of competitive
and non-competitive categories. So
whether you're an experienced open
water swimmer or new to swimming, this
is the perfect challenge for you. Kids (aged
8 to 14) can choose from three distances:
the Henley Half Mile, the Henley Quarter
or the Henley Splash (200m).
WALK THIS WAY
Cambridge University research has found
that exercise is crucial in the longevity of
human life and more important than obesity
in terms of causing avoidable deaths. A
quick 20-minute walk each day can be
effective in avoiding an early death following
a study of over 334,000 people in a 12-
year period which revealed the importance
of exercise compared with bodyweight.
The participants of this research had an
average age of 50 and had their waist
sizes, weight and height measured.
June Davison, Senior Cardiac Nurse
at the British Heart Foundation, said: "The
research suggests that just a modest
increase in physical activity can have
health benefits. Adults should aim to do
at least 150 minutes of moderate intensity
activity a week, carrying it out in sessions
of 10 minutes or more."
Professor Ulf Ekelund, from the
Medical Research Council Epidemiology
Unit at Cambridge University believes
exercise should be prioritised into daily
routines. He commented on the research
results saying, "Although we found that
just 20 minutes would make a difference,
we should really be looking to do more
than this. Physical activity has many
proven health benefits and should be an
important part of our daily life."