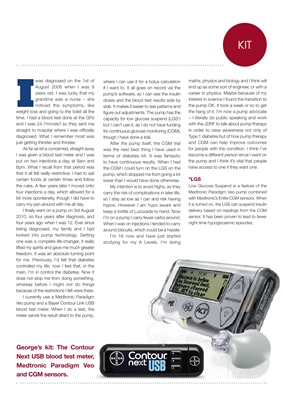 KIT
Iwas diagnosed on the 1st of
August 2006 when I was 8
years old. I was lucky that my
grandma was a nurse - she
noticed the symptoms, like
weight loss and going to the toilet all the
time. I had a blood test done at the GPs
and I was 24.7mmols/l so they sent me
straight to hospital where I was officially
diagnosed. What I remember most was
just getting thirstier and thirstier.
As far as kit is concerned, straight
away I was given a blood test meter and
I was put on two injections a day, at 8am
and 6pm. What I recall from that period
was that it all felt really restrictive; I had eat
certain foods at certain times and follow
the rules. A few years later I moved onto
four injections a day, which allowed for a
bit more spontaneity, though I did have to
carry my pen around with me all day.
I finally went on a pump on 3rd August
2010, so four years after diagnosis, and
four years ago when I was 12. Ever since
being diagnosed, my family and I had
looked into pump technology. Getting one
was a complete life-changer, it really lifted
my spirits and gave me much greater
freedom. It was an absolute turning point
for me. Previously, I'd felt that diabetes
controlled my life; now I feel that, in the
main, I'm in control the diabetes. Now it
does not stop me from doing something,
whereas before I might not do things
because of the restrictions I felt were
there.
I currently use a Medtronic Paradigm
Veo pump and a Bayer Contour Link
USB blood test meter. When I do a test,
the meter sends the result direct to the
pump, where I can use it for a bolus
calculation if I want to. It all goes on
record via the pump's software, so I can
see the insulin doses and the blood test
results side by side. It makes it easier to
see patterns and figure out adjustments.
The pump has the capacity for low
glucose suspend (LGS*) but I can't use
it, as I do not have funding for continuous
glucose monitoring (CGM), though I have
done a trial.
After the pump itself, the CGM trial
was the next best thing I have used in
terms of diabetes kit. It was fantastic
to have continuous results. When I had
the CGM I could turn on the LGS on the
pump, which stopped me from going a lot
lower than I would have done otherwise.
My intention is to avoid highs, as they
carry the risk of complications in later life,
so I stay as low as I can and risk having
hypos. However I am hypo aware and
keep a bottle of Lucozade to hand. Now
I'm on a pump I carry fewer carbs around.
When I was on injections I tended to carry
around biscuits, which could be a hassle.
I'm 16 now and have just started
studying for my A Levels. I'm doing
maths, physics and biology and I think will
end up as some sort of engineer, or with a
career in physics. Maybe because of my
interest in science I found the transition to
the pump OK. It took a week or so to get
the hang of it. I'm now a pump advocate
- I literally do public speaking and work
with the JDRF to talk about pump therapy
in order to raise awareness not only of
Type 1 diabetes but of how pump therapy
and CGM can help improve outcomes
for people with the condition. I think I've
become a different person since I went on
the pump and I think it's vital that people
have access to one if they want one.
*LGS
Low Glucose Suspend is a feature of the
Medtronic Paradigm Veo pump combined
with Medtronic's Enlite CGM sensors. When
it is turned on, the LGS can suspend insulin
delivery based on readings from the CGM
sensor. It has been proven to lead to fewer
night-time hypoglycaemic episodes.
George's kit: The Contour
Next USB blood test meter,
Medtronic Paradigm Veo
andCGM sensors if possible.