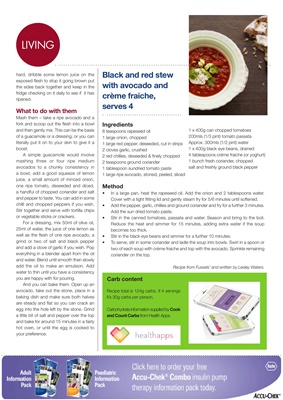 LIVINGLIVING
Recipe total is 124g carbs. If 4 servings
it's 30g carbs per person.
Carbohydrate information supplied by Cook
and Count Carbs from Health Apps.
Black and red stew
with avocado and
crème fraiche,
serves 4
Carb content
Ingredients
8 teaspoons rapeseed oil
1 large onion, chopped
1 large red pepper, deseeded, cut in strips
2 cloves garlic, crushed
2 red chillies, deseeded & finely chopped
2 teaspoons ground coriander
1 tablespoon sundried tomato paste
1 large ripe avocado, stoned, peeled, sliced 1 x 400g can chopped tomatoes
200mls (1/3 pint) tomato passata
Approx. 300mls (1/2 pint) water
1 x 400g black eye beans, drained
4 tablespoons crème fraiche (or yoghurt)
1 bunch fresh coriander, chopped
salt and freshly ground black pepper
Method
• In a large pan, heat the rapeseed oil. Add the onion and 2 tablespoons water.
Cover with a tight fitting lid and gently steam fry for 5/6 minutes until softened.
• Add the pepper, garlic, chillies and ground coriander and fry for a further 3 minutes.
Add the sun dried tomato paste.
• Stir in the canned tomatoes, passata and water. Season and bring to the boil.
Reduce the heat and simmer for 15 minutes, adding extra water if the soup
becomes too thick.
• Stir in the black eye beans and simmer for a further 10 minutes.
• To serve, stir in some coriander and ladle the soup into bowls. Swirl in a spoon or
two of each soup with crème fraiche and top with the avocado. Sprinkle remaining
coriander on the top.
Recipe from Fussels' and written by Lesley Waters.
hard, dribble some lemon juice on the
exposed flesh to stop it going brown put
the sides back together and keep in the
fridge checking on it daily to see if it has
ripened.
What to do with them
Mash them - take a ripe avocado and a
fork and scoop out the flesh into a bowl
and then gently mix. This can be the basis
of a guacamole or a dressing, or you can
literally put it on to your skin to give it a
boost.
A simple guacamole would involve
mashing three or four ripe medium
avocados to a chunky consistency in
a bowl, add a good squeeze of lemon
juice, a small amount of minced onion,
one ripe tomato, deseeded and diced,
a handful of chopped coriander and salt
and pepper to taste. You can add in some
chilli and chopped peppers if you wish.
Stir together and serve with tortilla chips
or vegetable sticks or crackers.
For a dressing, mix 50ml of olive oil,
25ml of water, the juice of one lemon as
well as the flesh of one ripe avocado, a
grind or two of salt and black pepper
and add a clove of garlic if you wish. Pop
everything in a blender apart from the oil
and water. Blend until smooth then slowly
add the oil to make an emulsion. Add
water to thin until you have a consistency
you are happy with for pouring.
And you can bake them. Open up an
avocado, take out the stone, place in a
baking dish and make sure both halves
are steady and flat so you can crack an
egg into the hole left by the stone. Grind
a little bit of salt and pepper over the top
and bake for around 15 minutes in a fairly
hot oven, or until the egg is cooked to
your preference.