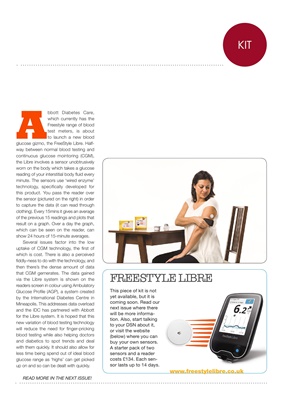 KIT
Abbott Diabetes Care,
which currently has
the Freestyle range of
blood test meters, is
about to launch a new
blood glucose gizmo, the FreeStyle
Libre. This is an interesting concept, halfway between normal blood testing and
(CGM). The Libre involves a sensor that
is unobtrusively worn on the body which
takes an interstitial body fluid reading
every minute. You pass the reader over
the sensor (pictured on the right) in order
to capture the data (it can read through
several layers of clothing).
Most people have only heard of CGM,
a few have trialled it and even fewer have
funding for the technology, while some
self-fund. There are several issues that
have lead to the low uptake of CGM
technology, the first of which is cost.
There is als a perceived fiddly-ness to
do with the technology, and then there's
the dense amount of data that CGM
gernerates, which you need to get a
handle on. It can be hard work, but once
it 'clicks', then there can be a lot of value
to be gained from wearing CGM sensors.
This piece of kit is not
yet available, but it is
coming soon. Read our
next issue where there
will be more information. Also, start talking
to your DSN about it,
or visit the website
(below) where you can
buy your own sensors.
A starter pack of two
sensors and a reader
costs . Each sensor
lasts up to 14 days.
FREESTYLE LIBRE