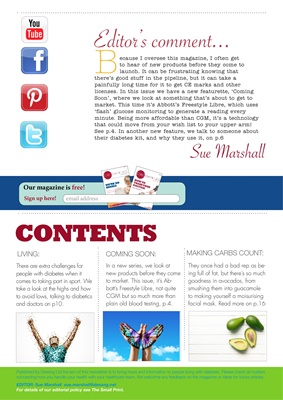 CONTENTS
Published by Desang Ltd the aim of this newsletter is to bring news and information to people living with diabetes. Please check all matters
concerning how you handle your health with your healthcare team. We welcome any feedback on the magazine or ideas for future articles.
EDITOR: Sue Marshall sue.marshall@desang.netshall" target="_blank" title="Visit sue.marshall">sue.marshall@desang.net
For details of our editorial policy see The Small Print.
In a new series, we look at
new products before they come
to market. This issue, it's Abbott's
Freestyle Libre, not quite
CGM but so much more than
plain old blood testing, p.4. Sue Marshall
LIVING:
There's extra challenges for people
with diabetes when it comes to
taking part in sport. We take
a look at the highs and how to
avoid lows, talking to diabetics
and doctors on p10. Because I oversee this magazine, I often get
to hear of new products before them come
to launch. It can be frustrating knowing that
there's good stuff in the pipeline, but it can take a
painfully long time for it to get CE marks and other
licenses. In this issue we have a new featurette, 'Coming
Soon', where we look at something that's about to get to
market. This time it's Abbott's Freestyle Libre, which uses
'flash' glucose monitoring to generate a reading every
minute. Being more affordable than CGM, it's a technology
that could move from your wish list to your upper arm!
See p.4. In another new feature, we talk to someone about
their diabetes kit, and why they use it, on p.6
Editor's comment...
ISSUE 30
MAGAZINE
DESANG
PLUS • New Products • Groovy giveaways • News (for T1 and T2)
WE'RE NO
ANGELS
But business as usual is best for
diabetics at Christmas
MAKING
CARBS COUNT:
CHESTNUTS ROASTING
ON OPEN FIRES
Our magazine is free!
Sign up here! email address
COMING SOON:
They once had a bad rep as being full of fat, but there's
so much
goodness in avocados. Smushing them into guacamole to making
yourself a moisurising facial
mask. Read more on p. 16
MAKING CARBS COUNT: