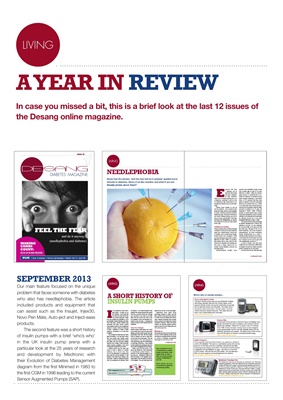 LIVING
A YEAR IN REVIEW
SEPTEMBER
Oh yes, the contentious world of chocolate (below). So central to debates about weight,
well-being and glucose control. The darker the better is the general rule, we discovered.
Main lesson: check the labels for carb content as bars vary widely. Also, there was an
interview with pilot Douglas Cairns about his fight to stay flying after his diagnosis of
diabetes. Making Carbs Count was a focus on the apex of autumnal fruits, the mighty
apple (top right).
In case you missed a bit, this is a brief look at the last 12 issues of
the Desang online magazine.