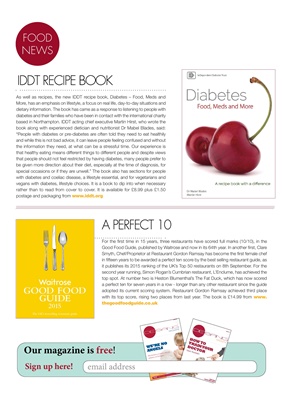 NEWS
FOOD
NEWS
IDDT RECIPE BOOK
As well as recipes, the new IDDT recipe book, Diabetes - Food, Meds and
More, has an emphasis on lifestyle, a focus on real life, day-to-day situations and
dietary information. The book has came as a response to listening to people with
diabetes and their families who have been in contact with the international charity
based in Northampton. IDDT acting chief executive Martin Hirst, who wrote the
book along with experienced dietician and nutritionist Dr Mabel Blades, said:
"People with diabetes or pre-diabetes are often told they need to eat healthily
and while this is not bad advice, it can leave people feeling confused and without
the information they need, at what can be a stressful time. Our experience is
that healthy eating means different things to different people and despite views
that people should not feel restricted by having diabetes, many people prefer to
be given more direction about their diet, especially at the time of diagnosis, for
special occasions or if they are unwell." The book also has sections for people
with diabetes and coeliac disease, a lifestyle essential, and for vegetarians and
vegans with diabetes, lifestyle choices. It is a book to dip into when necessary
rather than to read from cover to cover. It is available for £8.99 plus £1.50
postage and packaging from www.iddt.org
For the first time in 15 years, three restaurants have scored full marks (10/10), in the
Good Food Guide, published by Waitrose and now in its 64th year.
In another first, Clare Smyth, Chef/Proprietor at Restaurant Gordon Ramsay has become
the first female chef in fifteen years to be awarded a perfect ten score by the best
selling restaurant guide, as it publishes its 2015 ranking of the UK's Top 50 restaurants
on 8th September. For the second year running, Simon Rogan's Cumbrian restaurant,
L'Enclume, has achieved the top spot. At number two is Heston Blumenthal's The Fat
Duck, which has now scored a perfect ten for seven years in a row - longer than any
other restaurant since the guide adopted its current scoring system. Restaurant Gordon
Ramsay achieved third place with its top score, rising two places from last year. The book
is £14.99 from www.thegoodfoodguide.co.uk
A PERFECT 10 ISSUE 30
MAGAZINE
DESANG
PLUS • New Products • Groovy giveaways • News (for T1 and T2)
WE'RE NO
ANGELS
But business as usual is best for
diabetics at Christmas
MAKING
CARBS COUNT:
CHESTNUTS ROASTING
ON OPEN FIRES
Our magazine is free!
Sign up here! email address