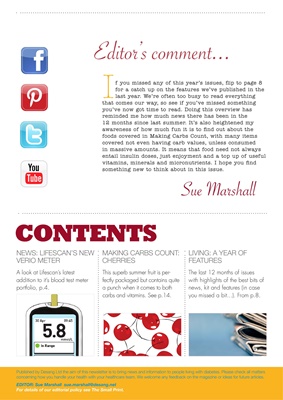 CONTENTS
Published by Desang Ltd the aim of this newsletter is to bring news and information to people living with diabetes. Please check all matters
concerning how you handle your health with your healthcare team. We welcome any feedback on the magazine or ideas for future articles.
EDITOR: Sue Marshall sue.marshall@desang.netshall" target="_blank" title="Visit sue.marshall">sue.marshall@desang.net
For details of our editorial policy see The Small Print.
We look at the last 12 months of
issues, highlighting the best bits
of news, diabetes management
kit and feature stories (in case
you missed a bit...). From p.8.
LIVING: A LOOK BACK AT
THE LAST 12 ISSUES
Sue Marshall
MAKING CARBS COUNT:
CHERRIES
You might find the prospect of this
vegetable unappealing, or just
plain boring, but once you see
what's packed inside you might reconsider your options. See p.14.
NEWS: LIFESCAN'S NEW
VERIO METER
A look at Lifescan's latest addition to it's
blood test meter
portfolio on p.4.
We all get busy and when we do, we may
delete an unopened email or not even check
an email account, if we're really pushed for
time. In case you missed an issue or two, then we've
done a roundup of the last year's worth of magazines.
Focusing on features, there's also a reminder of meaty
news items and some kickin' bits of kit too. In retrospect,
it's not been a bad year for neat innovations in diabetes
management products. Keeping up to date, in this issue
there's current news, food news and a look at Making
Carbs Count when it comes to Calebrese (aka broccoli).
Editor's comment...